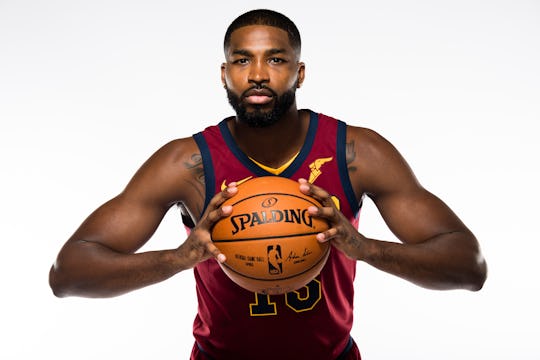 Jason Miller/Getty Images Sport/Getty Images
Guys, Khloe Kardashian's Boyfriend Tristan Thompson Is Filthy Rich
And just like that, it appears that yet another member of the Kardashian Klan has a baby on the way. According to Us Weekly, Khloe Kardashian is reportedly expecting her first child with her boyfriend, Tristan Thompson, citing "multiple" sources. Romper has reached out to Kardashian's representatives for comment, but has not heard back at this time. Naturally, fans are dying to know everything there is to know about Auntie Koko's partner in all of this. There's no doubt that Kardashian will have ample means to provide for her baby-to-be, but what's Tristan Thompson's net worth and what does he do for living?
As a professional basketball player in the NBA — Thompson plays for the Cleveland Cavaliers — Kardashian's beau earns a pretty decent living. In fact, Thompson's net worth is reported to be about $8 million — with a yearly salary of $5.1 million — as Celebrity Net Worth estimates.
That's not too shabby. But, it could be much higher, as HoopsHype reports that Thompson's salary is a little more than $16 million right now and he is expected to rank in a higher each season until 2020, which is part of a five-year deal Thompson signed back in 2015 for a total $82 million, according to ESPN.
So there is no question that both Kardashian and Thompson will live a life of luxury with a reported baby on the way.
That's especially true considering that Kardashian's net worth, as of January 2017, is reportedly $40 million, according to Bankrate. So, honestly, this child will really want for nothing, should these latest rumors be true.
News of Kardashian's reported pregnancy comes less than a week after it was reported that her youngest sister, Kylie Jenner, is also reportedly expecting her first child with boyfriend, Travis Scott, according to People. Neither has confirmed or addressed the reports and Romper has reached out both of their representatives for comment, but has not heard back.
Needless to say, the internet is understandably shook that not one, not two, but three Kardashians could have their own bundles of joy on the way. Kardashian's older sister, Kim Kardashian, is also reportedly expecting her third child via surrogate with Kanye West, People reported earlier this month.
So yeah, if think it's been especially difficult to keep up with these Kardashians, you're not wrong. And to make things even more up in the air, none of them have officially confirmed or denied these reports. So, fans and followers are truly losing all chill right now.
Yes, it's been an a whirlwind of a month. But fans seem to be totally overjoyed by the rumors that Kardashian is expecting a baby with Thompson, who she reportedly began dating in September 2016. And if you've had a peek at the 33-year-old reality star's social media pages, you can tell she's smitten and so is Thompson. A source told People of the Kardashian's reported pregnancy and her relationship with Thompson:
This is something Khloe has wanted for years and years and yet it's more than that: she didn't want it unless she was in the right relationship for it. She never let it happen with Lamar, intentionally, and she never considered it with James or French or anyone else she has seen. But this is such a wonderful moment for her: not only is she going to be a mother, she is going to be raising a child with a man she truly loves. Everyone is over the moon for them both.
While nothing has officially been confirmed by Kardashian or Thompson, it's clear that fans can't wait to watch her become a mother — whenever that may be.
Watch Romper's new video series, Romper's Doula Diaries:
Check out the entire Romper's Doula Diaries series and other videos on Facebook and the Bustle app across Apple TV, Roku, and Amazon Fire TV.