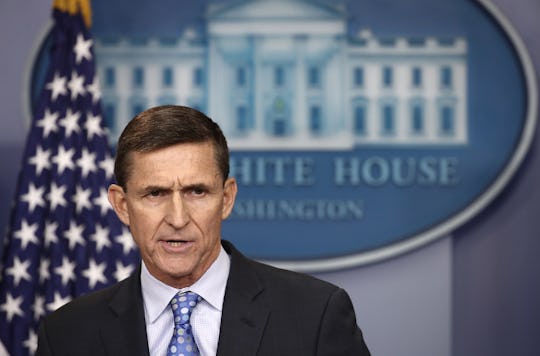 Win McNamee/Getty Images News/Getty Images
What's Up With The National Security Council?
On Sunday, The New York Times — arguably President Donald Trump's least favorite news organization — ran a report that supposedly gave an inside view of one government agency that has been struggling under Trump's administration. The National Security Council has been in the news a lot, partially because of who Trump has appointed to it, and those who have left it en masse. In case you missed the report, which came out during Sunday's Grammys, here's what's up with the National Security Council. Long story short? It doesn't look good.
The NSC is tasked with keeping the president up to date on issues pertaining to our nation's security. This usually includes intel on counterterrorism, foreign policy, nuclear initiatives of ours or from other countries, and all things pertaining to warfare. The council is ideally made up of an array of individuals with military and intelligence experience.
The trouble for the NSC kind of started with Michael Flynn, former director of the CIA, who is the president's current advisor to the council. He's been in some hot water because he allegedly had a conversation with the Russian ambassador about intentions to lift sanctions on Russia imposed by the Obama administration after evidence surfaced that Russia had, most likely, interfered with the 2016 election.
Given Flynn's position, not only was this not a conversation for him to be having, but it made a lot of people in Washington worry that he had connections to Russia that they didn't know about. That being said, there are a lot of people who think Flynn should get kicked out of his post — and probably out of federal government entirely. Trump, however, has not yet spoken up about the future of Flynn's role. Representatives for Flynn haven't responded to Romper's request for comment.
If the most recent reporting by the Times on the inner workings of the NSC is any indication, though, Trump may well have his hands full with other things. While the Times extensively quoted inside sources who refused to be identified because they fear losing their jobs, they also quoted a few politicians on-record whose confidence in the NSC seems to have eroded.
"I think it would be a mistake if we didn't have consternation about the changes," deputy national security adviser K. T. McFarland told the Times, adding: "Most of the cabinet haven't even been in government before."
The concerns raised by staff members ran the gamut from discomfort at seeing newly appointed staff carrying "Make America Great Again" mugs to concerns that decisions regarding national security were largely being made according to military, rather than diplomatic, motivations. This came after a raid in Yemen — the first under Trump's administration — was botched. The raid had initially been in process during the Obama administration, but had not been signed off on due to its risks. The failure resulted in the death of an American solider, as well as many civilians.
While Trump had reported that the raid had been a success despite the deaths because it had yielded some potentially useful intelligence, the military's Central Command did not report any details on the intelligence recovered or the scope of its usefulness to analysts.
From the Times' account, it appears that when it comes to foreign policy, those on the council have been instructed to provide Trump only with single-page documents accompanied by a plethora of visuals, including graphics. An official reportedly told the Times that "The president likes maps."
The current NSC is rife with inexperience, and apparently staffers are increasingly worried about Trump's tweeting — which has allegedly become something of an Achille's Heel for staff:
Three weeks into the Trump administration, council staff members get up in the morning, read President Trump's Twitter posts, and struggle to make policy to fit them. Most are kept in the dark about what Mr. Trump tells foreign leaders in his phone calls. Some staff members have turned to encrypted communications to talk with their colleagues, after hearing that Mr. Trump's top advisers are considering an "insider threat" program that could result in monitoring cellphones and emails for leaks.
With Flynn's position as Trump's national security advisor hanging in the balance, Steve Bannon's appointment as a regular presence at the council's meetings freaking people out, and inside reports of staff feeling at their wit's end about the situation they've found themselves in, it wouldn't be a stretch to say that America's security may be more than a little vulnerable at the moment. The question is, are our adversaries waiting to take advantage of it, and will we be able to defend against it if they do?