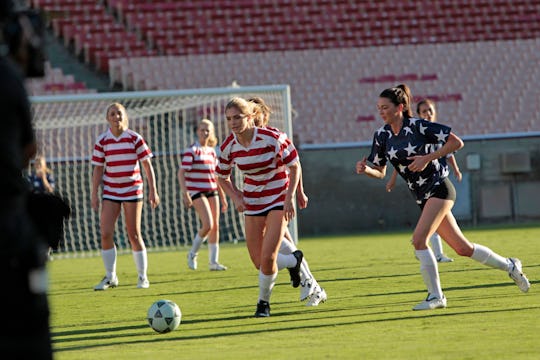 ABC/Rick Rowell
What's Wrong With Olivia's Toes On 'The Bachelor'? The Women Sink Lower Than You'd Expect In The Face Of Competition
Olivia poses a huge threat to the other women on season 20 of The Bachelor, as the lucky recipient of both the first impression rose, and an early rose after her first group date to the "LoveLab." Coupled with her flagrant cockiness about being "in a relationship" with Ben Higgins on week 3, it's no surprise that the other contestants have begun to find her a little grating. Still — when the girls started pointing out what was wrong with Olivia's toes on this week's Bachelor, they crossed a line.
During the show's fourth episode, rumors that Olivia had spent $40K on her wardrobe for this season, and speculation that she's a closet mean girl abounded. But perhaps the most absurd and desperate dig by Olivia's haters came after a group date to the soccer field, where the winning team scored an extended evening with Ben.
In her bold style, Olivia whisked Ben away from the other women and up onto a balcony for some alone time, during which former Bachelor contestant Amber shared the following insight about her with the other women:
She does have bad toes.
Unbelievably, the other contestants mostly concurred and piled on Olivia, agreeing that they had noticed her uncute toes, too. "People were making fun of her toes," said Haley, of The Twins fame, in a cutaway interview, "Toes shouldn't be a big deal. But, um, I think her boobs are fake, but it's okay. And her breath is horrible."
Upon releasing Ben to the rest of the group, Olivia was pulled aside by Jami, who, like a good friend, reported back to her what the other women were saying. Olivia seemed surprised, but composed herself in her reaction interview, admitting, "Am I aggressive? Yeah. Do I have bad toes? Yeah. I know I do. I hate my toes."
"Perfection is so lame," Olivia confided in Jami. Thank god for lady friendships, right?
Twitter had a lot to say on the subject, mostly in fury that no one had gotten a good shot of Olivia's offending feet yet:
Olivia wasn't the only one who got ganged up on this week either: Jubilee was feeling terribly nervous about her helicopter one-on-one date with Ben (fear of heights, natch), and the other women quickly jumped in to begin criticizing her for being unappreciative, making sure to harangue the poor girl later by attempting to corner her on the patio.
Ben managed to intervene, thank god, but the damage had been done, and Jubilee was left crying in the bathroom. Thankfully, Ben seemed to appreciate Jubilee's vulnerability just fine, and they pair had an intense, deep bonding session later.
Whether the girls intended to be classic Mean Girls or not, they achieved it. Hopefully next week's episode of The Bachelor won't be so harsh.
Images: ABC/Rick Rowell