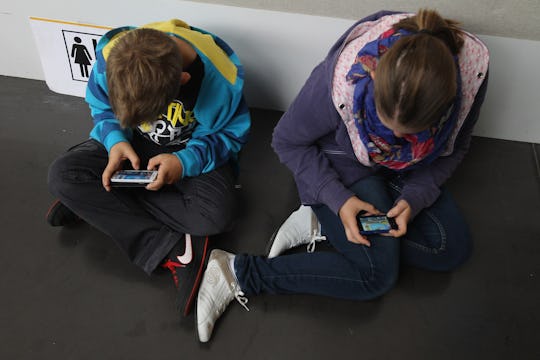 Sean Gallup/Getty Images News/Getty Images
The New App That Has Parents Freaking Out
As we become more reliant on technology and the ease of communication it provides, kids are — in turn — getting their own smartphones at an even younger age than previous generations. And because of this, it's harder to totally keep track of what they're doing on these devices and which apps they're downloading — and, more importantly, whether they're safe for youngsters to use. Aside from the popular social media platforms — like Snapchat, Instagram, and Facebook — there's another app, Yellow, that has parents worried. So, what exactly is the Yellow app and why are parents concerned about it?
According to the app's description on iTunes, it's "a new social to make new friends and spend time with them with chat and live videos." Physically, it looks very similar to Snapchat and its functions are much like Tinder, a popular dating app.
While it's suggested for those 13 years old and up, it does note that there may be "infrequent" and "mild" references to suggestive themes of tobacco and drugs as well as profanity and sexual content and nudity. (For those between the ages of 13 and 17, the app notes that you should have the permission of a parent or guardian to use it.)
Despite these rules and restrictions, parents say their younger kids could still get on the app. One mom told Fox News that her 12-year-old daughter was able to make a profile.
According to the mom, she told Fox News this is how she views the app: "Basically, it's Tinder for kids. You match with various people, just like the dating app, you swipe left or right and become friends with them."
She continued, "I started to click on profiles, or whatever you call them, and there were some boys who asked not-so-nice things. My daughter didn't know what it meant... And these boys she friends with were supposedly 14. But they could have been 40, for all we know."
"Adult predators can sign on and pretend to be minors. Children younger than 13 can create a profile, and even if they put in their actual age, the profile creation defaults to 13," according to TeenSafe.
Fox News reported that one of its photographers tested the app and created a profile, marking that he was 13 years old. And without delay, he was ready to use the swipe left and right.
In response to these concerns, Yellow told Romper in a statement: "It is in Yellow's interest, as it is with other social media companies, to ensure that people are who they say they are. The company does not want anyone on the service with a fake profile."
The app noted that it uses technology to detect whether people are using fake pictures (for example pictures that are taken from elsewhere on the web). And if Yellow finds such fake pictures, the account is removed from the app.
"Yellow will match the given age of the user with their profile picture, and if there are any discrepancies, the user will be blocked from the service," the statement said, adding that every profile is reviewed by a team of "human moderators."
The statement continued:
If a parent contacts Yellow with concerns through the email address in the settings feature of the app hello@yellw.co or website www.yellw.co they will receive a dedicated contact form, so they can report any concerns they have. These reports are prioritized by the Yellow team.
This app is aimed directly at teenagers, as TeenSafe reported, so it's understandable that parents are worried about their kids' safety and who they're communicating with on it. And while kids may like this app and the ability to connect with more friends, it's imperative — as with all social media apps — that parents keep a close eye on this type of activity because it appears that anyone can make a profile.