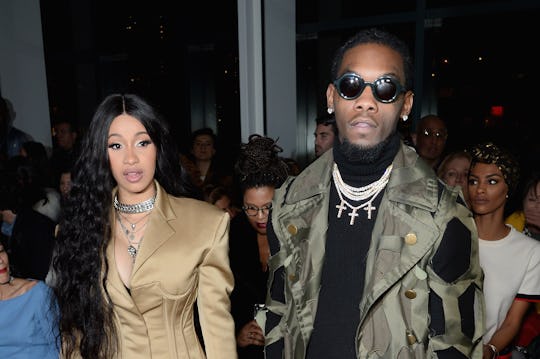 Andrew Toth/Getty Images Entertainment/Getty Images
Here's When Cardi B & Offset Might Be Getting Married
Following Cardi B's and Offset's relationship has been a bit of a whirl wind. Ever since they got engaged, though, fans have been looking forward to seeing the two rappers tie the knot. Which begs the question: when are Cardi B and Offset getting married? The date might be a lot sooner than fans expected (and should make them that much more excited).
Part of the eager anticipation around the duo's wedding is, well, everyone knows it's going to be one of the most extravagant weddings around. Offset established the precedent for an extravagant wedding when he proposed to Cardi B in October while onstage at Power 99's Powerhouse Concert in Philadelphia. You just can't have your proposal beat the entire wedding. Not only did he propose onstage, but Cardi's engagement ring is an eight carat diamond. Plus, Cardi B isn't exactly known for laid back events; she's always been a little extra, so there's no doubt her wedding will be the same.
In an April interview with GQ magazine, Cardi revealed that she and Offset are aiming for a fall wedding. Although the rapper didn't specify a date, she did tell GQ that they planned on having their ceremony in Atlanta. And the reason for it is honestly sweet on her part.
Cardi B reps New York City, and the Bronx specifically, anywhere she goes. She grew up in the South Bronx Highbridge neighborhood — a hood she credits with helping her develop the thick skin needed to make it in the rap industry. On the other hand, before Migos exploded nationally, they repped Georgia's capital city, Atlanta (and before that, they hail from Lawrenceville, Georgia).
"I always feel like his people and him gotta feel comfortable," Cardi B said, according to GQ. "[Offset]'s never comfortable in New York. He loves down south. He told me to move in with him, in Atlanta."
Cardi went on to clarify that her job is in New York, so she barely spends time in Atlanta, according to GQ, but it is nice to see her thinking about Offset's comfort as they prepare for their wedding.
In the past, the couple have publicly faced some hurdles. Back in January, allegations arose that Offset was cheating on Cardi B, and many were wondering why she didn't call it quits. Although fans thought Cardi's recent track "Be Careful" was about her relationship with Offset, she clarified that the track was written before he was a factor.
Cardi B isn't really known for sitting down when she has something to say. She opened up about her relationship in a Cosmopolitan interview, where she reminded the public that, frankly, it's none of their business. She said:
It's like everybody is coming down my neck, like, 'Why are you not leaving him? You have low self-esteem.' I don't have low self-esteem. B*tch, I know I look good. I know I'm rich, I know I'm talented. I know I could get any man I want — any basketball player, football player. But I want to work out my sh*t with my man, and I don't got to explain why. I'm not your property. This is my life.
Really, it's a good reminder for everybody. Even though it's easy to track celebrity relationships, their ups and their downs, it doesn't mean fans have any say in their lives. Cardi B decided she wants to be with Offset, and she's a grown woman, so that's her choice to make.
Even though the couple didn't specify a year for their wedding, there's one other exciting thing to note: their baby will be around.
Cardi B is due to give birth sometime in early July, according to The Cut. That means even if the couple plans for a 2019 fall wedding, their child will still be a few months old at the time. So, in addition to looking forward to all the extravagance that will make up the wedding, it's definitely possible that everyone will get to see Cardi B's and Offset's adorable baby.
A lot is still unconfirmed in regards to the couple's wedding, but that's at least one bonus people can hold onto.