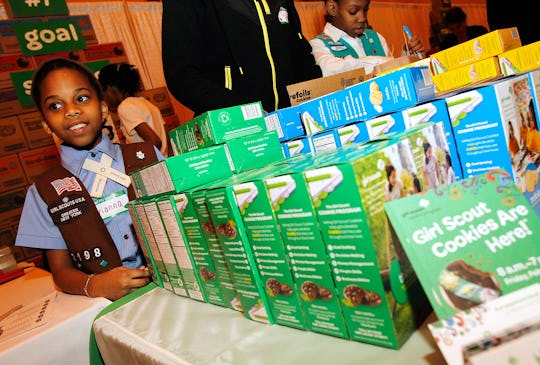 Paul Morigi/Getty Images Entertainment/Getty Images
This Is Exactly When Girl Scout Cookies Will Be On Sale
Every year, there's something almost everyone looks forward to, regardless of religion, parenting status, culture, and just about any other factor that generally divides our interests. The one thing everyone can enjoy, freely, is Girl Scout cookie sale season and the biggest argument anyone could get into is over which cookie flavor is the best (it's thin mints, BTW). So get out your checkbook and stretchy sweatpants because you're about to find out the answer to the question I know is running through your mind right now: When are Girl Scout cookies on sale? Because you've been waiting all year.
If you're concerned you already missed cookie sales or you're bummed about a waiting period, you can breathe a sigh of relief because Girl Scout cookies are on sale across the nation during a pretty wide window, from January through April, but the exact timing varies by location. If they're not offered from your local troop just yet, you can bet that they're just on the horizon and you'll soon find a location near you with a troop set up to sell (if someone hasn't already rung your doorbell). And for those locations that are already taking orders, you'll want to act fast.
If you're ready to drop some serious cash on your favorite flavors now, you'll want to sift through some of the popular locations below to find out when your favorite cookies will be up for grabs. And if you don't spot your location, you can get even more details here. Keep in mind that each individual troop could sell at a different time in your location, so reach out to your Girl Scout council for the specifics, but it doesn't hurt to mark these dates on your cal in the meantime.