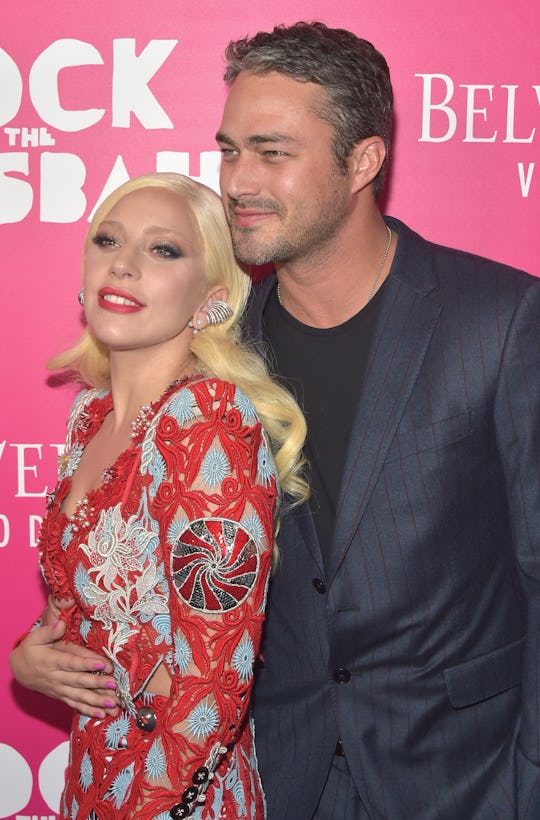 When are Lady Gaga and Taylor Kinney getting married? Here's What We Know
The 73rd annual Golden Globe Awards airs Sunday, Jan. 10th and while Amy Poehler and Tina Fey won't be hosting (*sigh*), the show is sure to be one for the record books. Hosted by Ricky Gervais, after a three year hiatus from the role, the night will feature some firsts, one of them being Lady Gaga, who was nominated for a Golden Globe for the fist time. Will she win? Will she lose? But most importantly, when are Lady Gaga and Taylor Kinney getting married?
Whether Lady Gaga wins a Globe for her work in FX's American Horror Story: Hotel, or not, she's going to have an incredible 2016. Gaga has enjoyed an insanely successful career and if an that amount of professional accomplishment isn't enough, she also has her wedding to look forward to. While Lady Gaga, 29, and Taylor Kinney, 33, haven't announced a wedding date yet, Gaga has let a few wedding plans slip. (Hey, who can blame her for being excited?)
Lady Gaga reportedly wants her wedding to be a "family celebration," and while other unnamed sources have claimed Malibu might be the destination for the ceremony, that hasn't been confirmed by the bride or the groom. Tony Bennet has confirmed he will be attending and singing, telling Page Six, "They invited me to do it and, of course, I will." Kenney has also said that there isn't a definitive date yet, telling extra, "We'll probably keep it to ourselves."
Lady Gaga got engaged to the Chicago Fire star on Valentines Day 2015, sharing a picture of the (gigantic) heart-shaped diamond ring on her Instagram account days later, with the fitting caption, "Love is love is love."
Once the couple broke the news to friends, family, and the free world, Gaga and her fiancé have been rather hush-hush about their nuptial arrangements, making it all the more clear that they plan on having an intimate ceremony instead of an all-out, extravagant affair.
Regardless of when or where or how the power couple decide to tie the knot, one thing is for sure: It's going to be a very memorable day for the couple, their guests, and all of us eager Internet people.
Images: Theo Wargo/Getty Images; ladygaga Instagram (3)