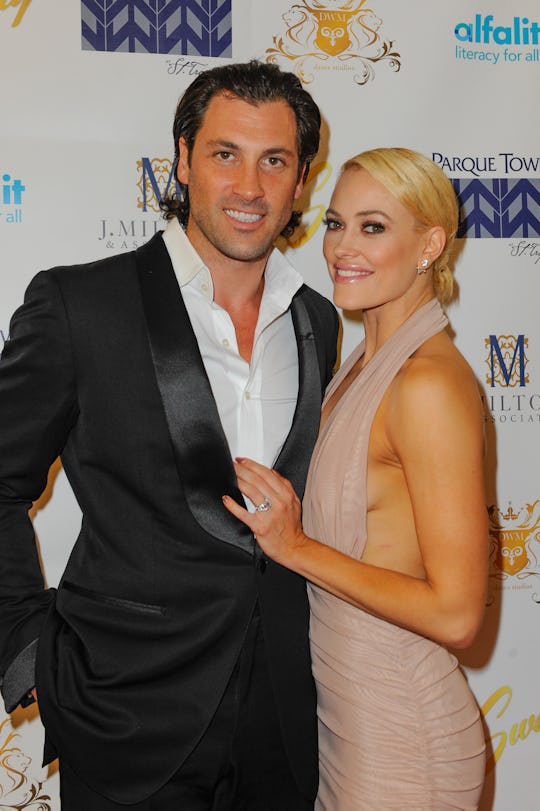 Sergi Alexander/Getty
When Are Maks & Peta From 'DWTS' Getting Married? They'll Have A Tiny Edition By Then
Romance thrives on Dancing With the Stars. It appears that skimpy outfits, insane levels of attractiveness, and sexy dance moves tend to draw people close to each other. Who knew? Maks Chmerkovskiy and Peta Murgatroyd are both fan-favorite pro dancers on the show, as well as a fan-favorite couple. Now engaged and expecting a little one, when are Maks and Peta getting married? It turns out that their new arrival won't change much about the actual date of the wedding.
Maks proposed to Peta in December of 2015 during a live performance of Sway after about three years of dating (minus a one year breakup), with a gorgeous ring that he designed himself! By May of that year it was something of an open secret that the two were also expecting a baby, though this was not confirmed until late June via some of the most adorable Instagram pictures ever. In their first interviews following the engagement, the couple said they intended to get married in the summer of 2017. And it looks like being new parents isn't going to change much by way of scheduling. With the baby due in January, Peta says that this will still give her a good six months to plan the wedding. (Because she won't be busy with anything else...)
Maks told InTouch "I want it to be a million dollar wedding! She wants a princess thing with the horse and carriage and I want to give that to her." Peta added, "It's going to be massive, probably 500 people, somewhere in New York. Our families will fly over for it." Can I come, guys? The couple also told the magazine that Maks' brother Val and fellow Dancing With the Stars pro will definitely be in attendance as Maks' best man. The couple also plans on inviting their fellow troupe dancers as well as some of their former partners, like Tommy Chong.
Post-pregnancy news, Hollywood Take reported Peta as saying, "The timing is perfect, actually. I'll have the baby in January and then I'll still have about six months to prepare for the wedding," while her husband-to-be said, "The baby will make a wonderful addition to the wedding party. A wonderful, tiny addition."
The couple has always been open about wanting children in the future, but who could have guessed that it would come so soon? From the looks of their social media, at any rate, they are over the moon to be parents soon, and are getting ready for their happily ever after.