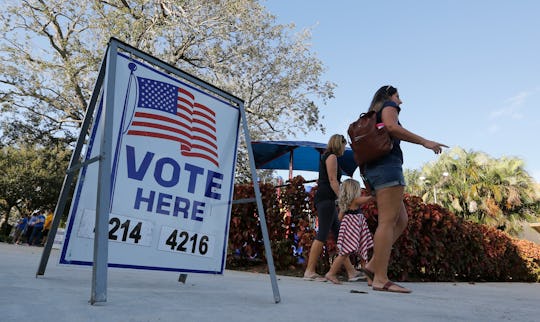 Joe Skipper/Getty Images News/Getty Images
The 2018 Midterm Elections Are Sneaking Up On Us Quicker Than You Realize
By all accounts, the midterm elections in the United States are approaching very quickly. A lot of people are probably wondering, when are the midterm elections, exactly? Especially because there's so much recent talk about primary elections instead. And the truth is, there's not even two months left to go until this year's midterms, which means we are getting down to the wire now.
There are going to be primaries in all 50 states before the midterm elections in November, according to The Atlanta Journal-Constitution. Primary elections vary by state, and some of them have already taken place. For instance, 2018 primary elections already occurred in June in California, Colorado, Iowa, Maryland, and plenty of other states. Primary elections this year also took place in August in places like Minnesota and Tennessee, The Atlanta Journal-Constitution reported.
And New York state is holding primary elections this week, on Thursday, Sept. 13. So if you're a little confused by when the general, midterm elections take place, because it seems like there's been a lot of elections this year already, you're probably not alone.
For the record, the midterm elections take place on Tuesday, Nov. 6, according to The Independent. And politics in the U.S. could potentially look very different once these midterms are over.
In an interesting twist, according to The New York Times, "if every state's and district's election results on Nov. 6 were a uniform eight-point swing in the Democrats' direction from the 2016 presidential result, Democrats would gain 44 House seats — almost twice the 23 they need to control the chamber." The results are not likely to be that extreme, but there are quite a few races that are already close, and anything could happen come November.
On that note, on Tuesday, Senate Majority Leader Mitch McConnell, a Republican from Kentucky, was speaking to reporters at the Gene Snyder Federal Courthouse in Louisville, Kentucky, and said Republicans "know this is going to be a very challenging election," NBC News reported. He said he thinks Senate races in Arizona, Nevada, Tennessee, Montana, North Dakota, Missouri, Indiana, West Virginia, and Florida were "dead-even," and that each is "too close to call and every one of them is like a knife fight in an alley. It's just a brawl in every one of those places."
And with under two months left until the midterms, incumbent politicians who are trying to hold onto their positions are working harder than ever to do so, and the candidates who are challenging have to give it all they've got, too.
All 435 members of the House of Representatives in the U.S. are up for election every two years, while one-third of the Senate, by comparison, are up for election because members of the Senate serve in six-year terms which are staggered, according to The Independent. Congress especially could look extremely different after the midterms with so many positions up for grabs — though, like McConnell said, the Senate could change up quite a bit in a few months time as well.
The Pew Research Center reported in July that turnout for this year's House primaries is up, and that about half of registered voters said they are more enthusiastic than usual about voting. The Center noted that voter turnout falls in midterm elections as compared to presidential election years, and primaries almost always result in fewer voters than general elections; but the surge seen so far in primaries could continue into the general in November.
It might seem like there's a lot of time to go before the midterms in early November, especially with the many campaign ads you're likely seeing on local TV stations and on signs on the side of the road. But there are really only a few weeks left, and with so many races looking like they might be close, the campaigning is probably only going to ramp up in the next month and a half or so.
Not sure if you're registered to vote? Check out your voter registration status here, while you've still got some time. Then, read up on candidates in your local area, and get ready to vote in the midterm elections on Nov. 6.