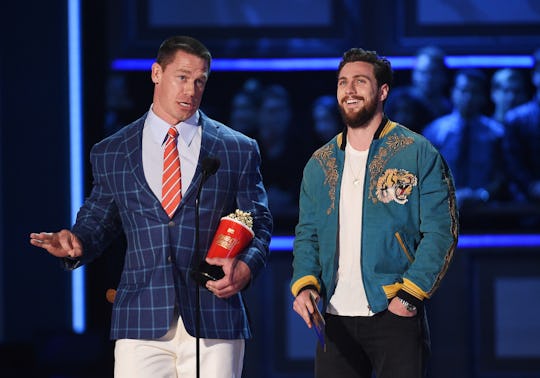 Kevork Djansezian/Getty Images Entertainment/Getty Images
Here's When You Can Expect To Watch The MTV Movie & TV Awards
It's been a great year in television and movies, so there's a lot to look forward to at this year's MTV Movie & TV Awards. So in case you haven't already heard, here's when the MTV Movie & TV Awards will air this year.
The popular award show, which only began including TV shows in the ceremony last year, is set to air on Monday, June 18 at 9 p.m. EST on pretty much every single Viacom channel, but most notably on MTV. This year the show will once again be run by Emmy-winning producer-director Joel Gallen. He'll executive produce and direct this year's MTV Movie & TV Awards, which he helped create at MTV and has been producing for 14 years.
Hosting this year is the one and only Tiffany Haddish, who will surely bring the laughs to what's already expected to be an outrageous show. Along with the best host, this year's MTV Movie & TV Awards will also have a number of great performers. The performers include Mustard, Nick Jonas, and Chloe x Halle.
As for the other celebs expected to hit the stage, the list of this year's presenters include Michael B. Jordan, Seth Rogen, Mila Kunis, Kristen Bell, Zendaya, Gina Rodriguez, and Common. Plus, MTV Movie & TV Awards is continuing it's tradition of giving out a Generation Award and a Trailblazer Award. This year the Generation Award will go to Chris Pratt, and Emmy-award winner Lena Waithe will be honored with the Trailblazer Award.
Besides the performers and the presenters, the real reason people will be tuning is to see who wins what awards. Beginning last year, the award show got rid of gender-specific categories, so there's no longer awards for "Actress" or "Actor." Though that means there are slightly less awards to go around, isn't it time all award shows stop making categories gender-specific?
This year the awards are Best Musical Moment, Best Movie, Best Show, Best Performance in a Movie, Best Performance in a Show, Best Hero, Best Villain, Best Kiss, Most Frightened Performance, Best On-Screen Team, Best Comedic Performance, Scene Stealer, Best Fight, Best Music Documentary, Best Reality Series or Franchise.
Black Panther and Stranger Things received the most nominations with seven and six nods respectively. Black Panther was nominated for Best Movie and Best On-Screen Tea while Chadwick Boseman who plays the titular superhero is nominated for Best Performance in a Movie and Best Hero. Additionally, Letitia Wright, who plays Black Panther's younger sister, was nominated for Scene Stealer, and Michael B. Jordan was nominated for Best Villain. Unsurprisingly, Black Panther was the only Marvel film to walk away with nominations. Avengers: Infinity War was also nominated for Best Movie and Thanos for Best Villain. Taika Waititi was nominated for Scene Stealer for his role as Korg in Thor: Ragnarok, which he also directed.
Stranger Things nominations include Best Show and Best On-Screen Team. Millie Bobby Brown was nominated for Best Performance in a Show, Noah Schnapp was nominated for Most Frightened Performance, and Dacre Montgomery received a nod for Scene Stealer. Other popular nominees on the TV side include Riverdale, 13 Reasons Why, grown-ish, and Game of Thrones.
Although voting for most categories is already closed, you can still vote for you favorite Musical Moment using Instagram Stories. The contenders are black-ish, Call Me by Your Name, Girls Trip, Love, Simon, Riverdale, Stranger Things, The Greatest Showman, and This Is Us. All are great choices but you can only choose one so choose wisely. Then make sure to tune in for the MTV Movie & TV Awards on Sunday night at 9 p.m. EST on MTV to see who wins.