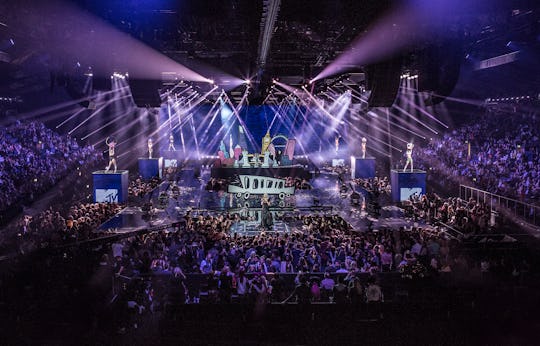 John Phillips/Getty Images Entertainment/Getty Images
The MTV VMAs Will Be Here Before You Know It
The MTV Video Music Awards are the perfect excuse for popular artists to get together, show off some wild fashion, and treat the audience to a great performance or two. In between, awards are handed out and (if you're lucky) some drama might unfold. You won't want to miss it, so you might be wondering: when are the MTV Video Music Awards 2018?
The VMAs will be airing on August 20, live from Radio City Music Hall. That was actually where the very first VMAs ceremony was held back in 1984, so the award show will be returning to its roots this year. This will also be the first time the show has been in that specific spot since 2009. New York City Mayor Bill de Blasio was more than on board with the location shift. As reported by Variety, he said in a statement, "New York City's creative energy has always fueled those who live and work here. This is where music, film, and art collide and where the Video Music Awards were born."
He continued, "There is no better place to host the MTV VMAs than in New York City at one of the most iconic venues in the world." Hopefully it will result in an equally iconic show.
And there's a good chance that will be the case, considering all the artists who will be presenting and performing this year. The Backstreet Boys will be taking the stage to hand out an award, as will Tiffany Haddish and Kevin Hart, who recently shared the screen in Night School. They aren't the only actors who will be stopping by to present despite the awards' musical inclinations: Millie Bobby Brown will be there, as will Amandla Stenberg, Blake Lively, Olivia Munn, Shay Mitchell, and Keegan-Michael Key.
Of course, it wouldn't be the VMAs without quite a few musicians among the presenters, too. Entertainment Weekly reported that Bebe Rexha, DJ Khaled, Common, G-Eazy, Gucci Mane, KYLE, Lenny Kravitz, Lil Uzi Vert, Teyana Taylor, Rita Ora, and Liam Payne will be presenting too. That stage is going to get crowded after a while.
But while passing out awards is kind of the point of the VMAs, the performances can provide one of the biggest reasons to tune in. According to Billboard, Panic! at the Disco will be performing their song "High Hopes," though it's "Say Amen (Saturday Night)" that's nominated in the best rock category. Nicki Minaj will also be performing, though the number in question seems to be under wraps at the moment. Ariana Grande, nominated for Video of the Year and Best Pop Video for "No Tears Left to Cry," will be singing "God Is a Woman." Shawn Mendes is another nominee who will be stepping onto the stage to perform, as is Post Malone.
Cosmopolitan reported that Travis Scott would be performing a medley of songs from Astroworld. Logic and Ryan Tedder will be collaborating on a live performance of their single "One Day." But one of the most exciting possible performances could result from Jennifer Lopez being honored with the Michael Jackson Video Vanguard Award. When Lopez receives her award, it could be accompanied by a medley of all her hits — and a shoutout to "Jenny from the Block" is always welcome, in my opinion.
If you can't wait to see how it all turns out, then rest easy, because the show is right around the corner. In just a week, you'll be enjoying a series of serenades and cheering on your favorites in every category. The MTV VMAs will be here sooner than you think.