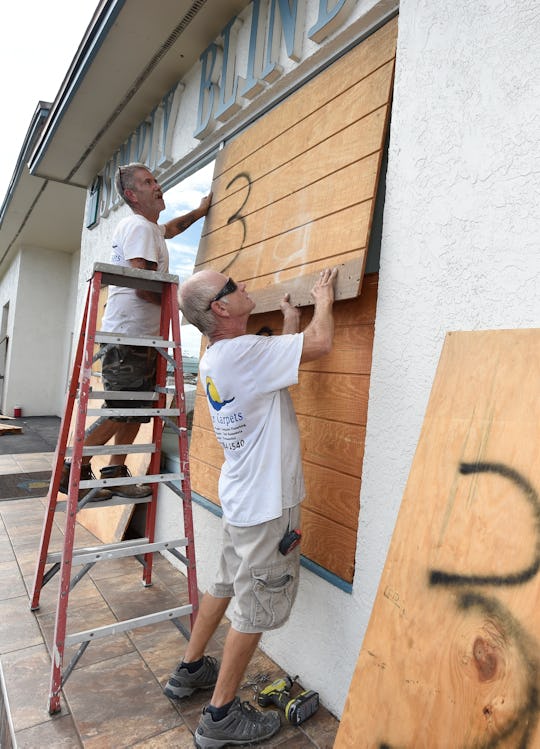 RHONA WISE/AFP/Getty Images
When Can Kids In Florida Return To School After Hurricane Matthew? The State's Preparing
Hurricane Matthew, described as the fiercest Caribbean storm in nearly a decade by Reuters, continues to be a cause for concern as it moved towards the Bahamas and the eastern coast of Florida on Wednesday morning. Florida Gov. Rick Scott declared a state of emergency, and has urged Floridians to prepare for the storm that has already proven to be a deadly devastation in other countries. Schools across counties in the state have announced closures – so when can kids in Florida return to school after Hurricane Matthew? It continues to be important to track this devastating hurricane.
On Monday, Scott declared a state of emergency for all 67 counties in Florida. In a press release, Scott referred to Hurricane Matthew, which was at Category 4 status, as a "life-threatening" storm:
Hurricane Matthew is a life-threatening category four hurricane and we must all take it seriously. If Hurricane Matthew directly impacts Florida, there could be massive destruction which we haven't seen since Hurricane Andrew devastated Miami-Dade County in 1992. That is why we cannot delay and must prepare for direct impact now. Today, I signed an Executive Order declaring a State of Emergency in every Florida county to ensure we have resources for evacuations, sheltering and other logistical needs across our state. We are preparing for the worst, but hoping for the best and we will not take any chances to ensure our state is prepared.
According to a local Florida NBC News 2 report, a number of Florida counties (from northern Florida to south) have announced school closures for Thursday and Friday, including Brevard County Schools, Broward County Schools, Glades County Schools, Hendry County Schools, Palm Beach County, and St. Lucie County.
Some areas in the state have mandatory and voluntary evacuations. Brevard County, situated along the eastern coast of Florida, has been issued mandatory evacuations.
As for Florida schools, the Florida Department of Education lists the updated school closures happening on district and college levels on its site. No other information on county school closures past Friday is listed on the site. State and local officials will likely assess the situation after Hurricane Matthew has passed.
Hurricane Matthew is also projected to affect Georgia, South Carolina, and North Carolina. Governors in those states have also declared a state of emergency, according to The Washington Post.
The hurricane has devastated Haiti, where the full extent of the devastation is reportedly unclear due to loss of communications to regions in the country's Western Hemisphere, The Washington Post reported.
According to Reuters, at least 13 people in Haiti died as a result of the hurricane, and four died in the Dominican Republic. Certainly, the hurricane has had devastating effects.