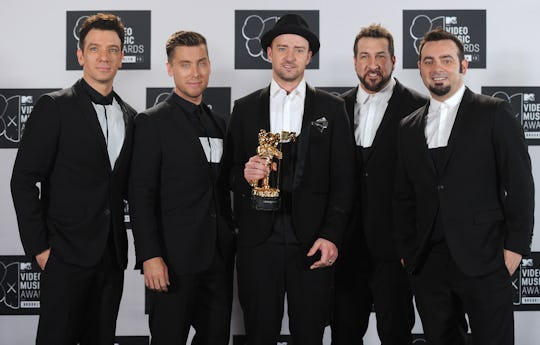 Jamie McCarthy/Getty Images Entertainment/Getty Images
When Can You Buy, Buy, Buy *NSYNC's New Album?
Our wishes have been granted once again because there's another *NSYNC reunion to watch out for — and it's a big one. The iconic boy band will reportedly be releasing a special new album for fans to celebrate its 20-year anniversary later this year. Every '90s kid is understandably wondering when we can all buy *NSYNC's new album. But one thing's for sure: It's not gonna be May.
Band member Lance Bass, who is is currently competing on My Kitchen Rules, revealed the incredible news in an interview with Entertainment Tonight's Katie Krause. "We're doing something [special]. I don't know if I can announce it yet," Bass told Krause, but he eventually spilled the beans about the band's upcoming project. "We're coming out with a really cool vinyl edition of our Christmas album because it's coming up on the 20 years of that [1998 Home for Christmas] album."
Unfortunately, Bass and the other guys — Justin Timberlake, Chris Kirkpatrick, Joey Fatone, and JC Chasez — don't have a hard deadline in mind yet. But fans can hopefully expect *NSYNC's festive new album to drop around the holidays. "We're terrible at planning things... We're five guys, so for us to make a decision about anything is really hard, so we just need to do it," Bass explained in the Entertainment Tonight interview. "So hopefully maybe around Christmas time. It'll be fun to see everybody again."
It's going to be a big year for *NSYNC as Bass also revealed that the band is going to get its star on the Hollywood Walk of Fame, "this year, at some point." A date for this also not been penciled in just yet. Bass added that they will all definitely be there for the ceremony, they just "have to decide on a date."
*NSYNC went on a "temporary hiatus" in 2002 and the band's breakup was confirmed a few years later 2007. But, to every fan's delight, the guys have gotten together for a few reunions in the years between.
In recent years, the band got together for a one-off performance at the 2013 MTV Video Music Awards and the following year they released a compilation of *NSYNC's greatest hits and unreleased songs titled The Essential *NSYNC. And as recently as last summer, the band reunited to celebrate Chasez's 40th birthday.
These reunions happen so infrequently that it's always a pleasant surprise for the band's most devoted fans when they get together. It does seem like, in the midst of their crazy schedules, that they always try to make time for the big moments. And this time, it's for a really special reason — and that ain't no lie.