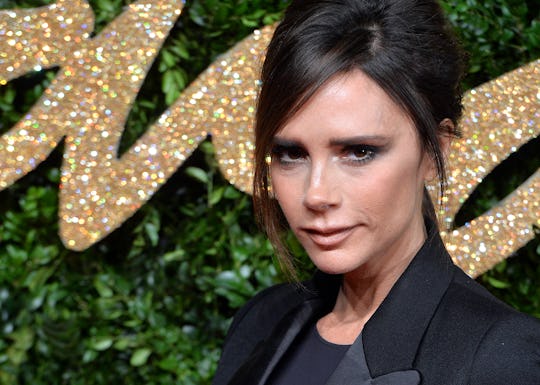 Anthony Harvey/Getty Images Entertainment/Getty Images
Victoria Beckham Is Launching A Children's Line
If you're looking to spice up your kid's closets for spring and summer, you are so in luck, because designer, rockstar mom, and former Spice Girl Victoria Beckham has a new retail line dropping at Target very soon. I know what you're thinking: How soon is "soon" and when can you buy Victoria's Beckhams's children's line? Set a reminder, because the collaboration is only going to be available from April 9 until April 30, or until supplies last. And I have a feeling supplies will not last very long. (Get your online shopping fingers ready.)
The line will be available in stores and online, and some pieces will also be available directly through Beckham's own site for global shoppers. All of the pieces range from $6 to $70, "with most items under $40," according to Target. In other words, you won't totally break the bank if you're already setting aside some dough for a summer wardrobe.
According to Target, items will be available in sizes XS-3X for women and NB-XL for girls, toddler and baby. Beckham is a fashion goddess — she always looks put together — and the first looks at her Target kids and women's line prove it. Actually, she and daughter Harper have already worn some of the pieces out and given them rave reviews themselves (it would be weird if they didn't, right?).
"I love every single piece of this collection!" Beckham told People. "I'm probably most drawn to the soft tailored pieces, like the tuxedo shirt and calla lily shirt and pants. They're just really easy to wear, but still feel luxurious and create a very pulled-together look."
She said that she thinks getting ready in the morning should be easy and that nothing is better than simple, classic lines and prints, so there likely won't be too many edgy designs. InStyle featured the collection in its issue this month and everything looks springy and comfortable.
Beckham was also really excited about designing for kiddos. As she told People,
I loved being able to try my hand at designing kids', a category I have been interested in for some time. I had such fun because I felt I could use my own personal experiences and tell a story through the clothes. This whole partnership was a new and exciting challenge for me, but I think challenging yourself is important in order to keep evolving and engaging new consumers.
More than anything else, Beckham said that she had been thinking about a Target collection ever since she was pregnant with Harper and was designing her Victoria, Victoria Beckham line. She wanted to create similar looks for women and their kids who were looking for designer-looking clothes at not-so-designer prices. (Uh, who isn't?) Judging from the commercials and the InStyle shoot, it looks like she's succeeded in her mission.
So if you're looking for simple, easy Victoria Beckham-style gear for spring, mark your calendars now. This stuff will likely sell out fast.