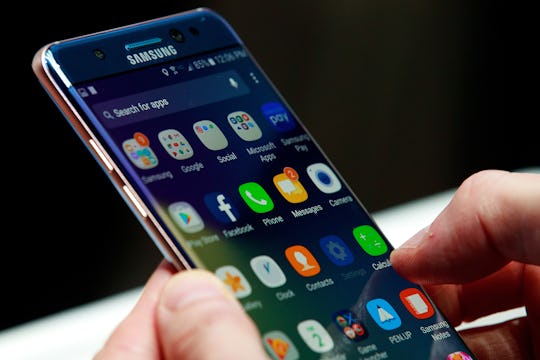 Drew Angerer/Getty Images News/Getty Images
When Can You Exchange Your Samsung Galaxy Note 7 For A Less Explode-y Phone?
Another late summer, another round of smartphone releases. Samsung came out ahead of Apple's highly anticipated iPhone 7, with the release of its new Galaxy Note 7 on Aug. 19 in the United States. And let me tell you — the Galaxy Note 7 has been on fire, as in literal fire. On Aug. 25, the first incident was reported in China when a Galaxy Note 7 caught fire as it was charging — and then exploded. By Sept. 2, Samsung had received 35 reports of similar incidents with its new phone. The South Korean company said in a statement that it would halt all sales globally of the phone, and that it will replace current versions of the phone with new ones. So, when can you exchange your Galaxy Note 7?
If you live in the United Kingdom, Ireland, or South Korea, you're in luck. You can begin exchanging your Galaxy Note 7 beginning Monday. If you're in the United States, you'll have to wait until Wednesday to exchange out your potentially explosive phone for a new, less explode-y version. The roll out for replacement phones is happening on a country by country basis, given that the Samsung sold 1 million of its Galaxy 7 Note phones — a little less than half of the 2.5 million devices manufactured.
On Thursday, the U.S. Consumer Product Safety Commission officially recalled the Samsung Galaxy Note 7, saying that the lithium-ion batteries in the devices "can overheat and catch fire, posing a serious burn hazard to consumers." The CPSC recall announcement stated that Samsung had received 92 reports of batteries overheating. Of those, 26 reports included burns while an astonishing 55 complaints reported property damage, including in cars and garages.
On Sept. 9, a man in Port St. Lucie, Florida, claimed that his car caught fire from a Galaxy Note 7. According to police reports, the driver said that he was charging his phone in his car when it caught fire. His car was soon engulfed in flames, captured in a harrowing video a witness at the scene. The driver, Clifford Samuels, was able to successfully escape his flaming car with no injuries. According to Port St. Lucie Police, the driver's claim that the fire was started by his phone has not yet been confirmed, but the footage from the scene and the fire's aftermath isn't reassuring to Samsung users either way.
With two days to go until current owners of the Galaxy Note 7 phone can either exchange their phones or return their phone and get a refund, it's important that Galaxy Note 7 users should turn off their phones, as advised by both Samsung and the CFCP. Users in possession of one of the recalled phones can visit the Samsung website for more details about Samsung's Galaxy Note 7 U.S. exchange program.