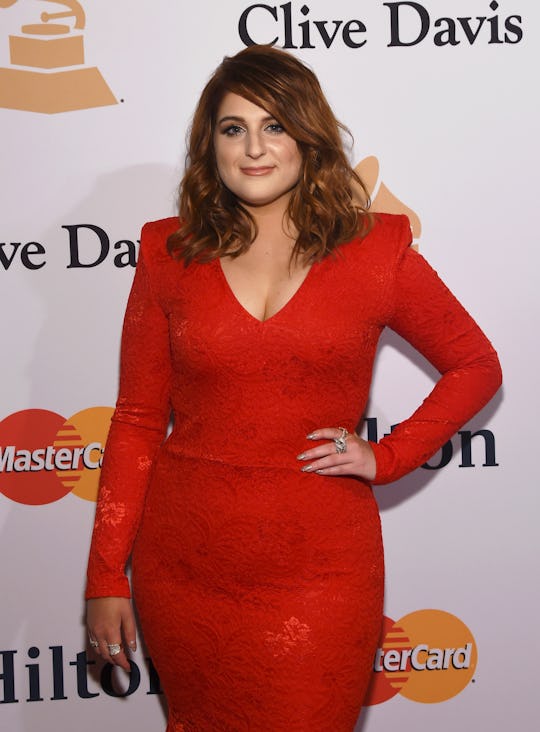 Larry Busacca/Getty Images Entertainment
When Can You Preorder Meghan Trainor's New Album? It'll Be Out Super Soon
Thank You is coming soon: Meghan Trainor's new album will be available for preorder on March 4, she revealed on the red carpet before the Grammys. She had been teasing the release of Thank You for the past few weeks, and fans had been clamoring for it ever since she broke onto the scene in 2014. So, hooray!
"I don't know if I'm allowed to say this," Trainor said on the red carpet. "Around March. March 4, the preorder will start." We're still awaiting word on when the album will actually be released, but a preorder date is a step in the right direction. The 22-year-old singer's sophomore album has a lot to live up to based on the success of her debut record, Title. But, as Trainor told Yahoo! Music this week, the albums will be difficult to compare.
The new album is a new level and it's a new Meghan Trainor.
She continued, "And it's about to pop off and it's about to get wild. It's obviously still Meghan Trainor songwriting, but it's with new people that I've worked with, and you can tell it's a new sound and my voice has gotten much better. It's just next-level stuff that don't know everyone is ready for, but I'm ready." Trainor also said the album features collaborations with R. City as well as a newcomer: her own mother.
Previously, Trainor told E! News the album's name is a "song to my fans." Trainor said she plans to reschedule her tour, which she had to cancel because of a medical emergency last summer. It should be worth the wait now that it will feature new songs by the Best New Artist winner.