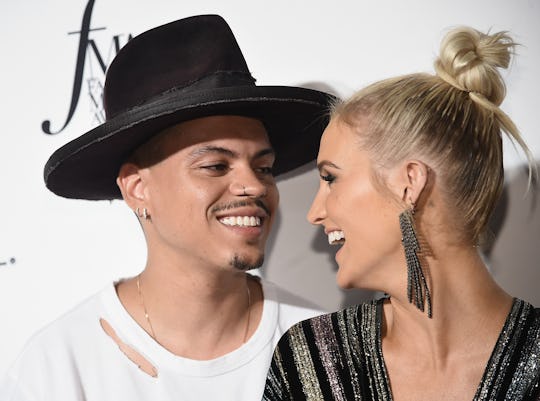 Steven Ferdman/Getty Images Entertainment/Getty Images
Ashlee Simpson & Evan Ross Celebrated An Anniversary Before Their Show Premiere
Singer Ashlee Simpson is dipping her toes once again in the reality TV world with her new show Ashlee + Evan on E! Seeing as she's starring with her husband, when did Ashlee Simpson and Evan Ross get married? They just celebrated their anniversary.
Ashlee Simpson and Evan Ross were married on August 30, 2014. Ashlee's sister Jessica Simpson was the matron of honor while her son (with Fall Out Boy's Pete Wentz) Bronx Wentz attended as well. The two began dating in July 2013 and come January, they were engaged. Now, they're doing their own version of Newlyweds: Nick and Jessica.
Unfortunately, even 14 years later, what viewers may know Ashlee Simpson most for is the time Simpson messed up on Saturday Night Live. Basically, for those who are too young to remember (or just blocked it from their minds, like I wish I could), the backing track for her song "Pieces Of Me" began playing when the one for "Autobiography" should have been. When Simpson noticed something was wrong, she did an actual jig before leaving the stage. After a minute, the screen cut black.
Simpson claimed the reason for the backing track was acid reflux and that her father and manager, Joe Simpson, told her to use one. By then, however, the damage was done. While things may have turned out differently if this happened today, this was 2004: the public was ruthless. Even in their Rolling Stone interview where Simpson and Ross discuss Ashlee + Evan, it opens up with a retelling of the faux pas even though it was 14 years ago.
"It was years ago, and even being a mom now, you want to teach your kids to be strong," Simpson told Rolling Stone. "Everybody goes through stuff." In another interview with E!, the network airing the show, Ashlee Simpson described how SNL changed her. "It's definitely not difficult to talk about. That was a very long time ago. It's something that happened to me and things in life happen, and they make you stronger," she said." Simpson continued, "They make you a better performer and a better person. I think things like that build your character and your strength, and it's how you handle them [that matters.]"
I think it sucks that the world knows Simpson for a mess-up that occurred when she was just a teenager; if that were the case with all of us, we'd all be in big trouble. I'm glad, however, that she's in the spotlight again and hope Ashlee + Evan gives the world a chance to see a different side to her, and now her family as well. Simpson said she wants the reality show to be as actually realistic as possible. She told Rolling Stone:
My biggest thing on the show, and in general, is finding my balance of how [I'm a mom] and do all of the work in the studios and my hours, and also make sure I'm there for school. For me, it's so important that I find that balance, and you see me really trying to discover it.
What's also interesting is that Simpson's husband, Evan Ross, is the son of icon Diana Ross (and therefore the brother of another icon, Tracee Ellis Ross. Both Diana and Tracee Ellis Ross make cameos on the show, which is yet another reason to watch it. Besides the A-list cameos, the show is a sneak peek into the real lives of two singers still trying to make music (who also happen to be already famous).