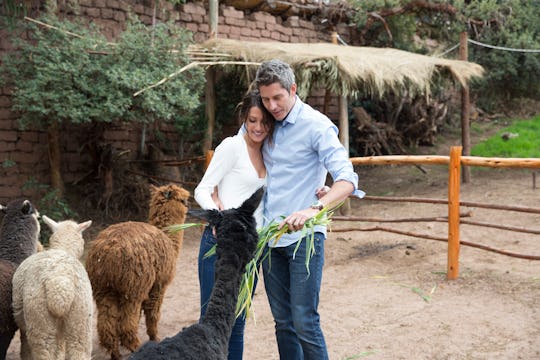 Paul Hebert/ABC
Here's A Breakdown Of The Timeline Of Becca & Arie's Relationship Post-'Bachelor'
When Chris Harrison says that a finale of The Bachelor is going to be the most dramatic ever, I have a hard time believing him because he says that every time. However in Arie's case it might actually be accurate — considering Arie broke up with Becca a few months after they got engaged at the end of the show. So when did Becca and Arie break up after The Bachelor? According to all of the evidence I've been able to gather, the heartbreaking moment happened a few weeks after Arie's season had started to air.
Weeks ago, just a few weeks into the season, Reality Steve posted spoilers on his popular site breaking the news that Arie had broken things off with his winner, Becca, and started dating Lauren B., his runner-up. According to the site, Becca and Arie were still together over New Year's Eve, meaning they were still engaged when the show started to air on Jan. 1. Reality Steve then reported that midway through January, Arie broke things off with Becca and was in Virginia Beach with Lauren on Jan. 16. But how long exactly after ending his engagement did he fly to Virginia to propose (a relationship) to another woman?
Well, it's not entirely certain, but Becca did post two pretty telling photos to her Instagram stories on Jan. 14 and Jan. 15. In one, she posted a picture of wilted flowers with the word "mood" in script. In the other, she's snuggling her cat and wrote, "At least she still loves me." Knowing what we know, it at least seems like these posts were in reference to her ended engagement. That would at least imply that she and Arie broke up around the middle of January, and right before Arie went to go start things up again with Lauren.
On Monday's finale, the show gave us a sneak preview of Becca and Arie's "happy couple" weekends. And then they showed us Arie speaking directly to the camera about how he can't stop thinking about Lauren even when he's with Becca. Arie finally confessed to Chris Harrison that he was going to call off the engagement and break up with her. Becca showed up for one of these filmed weekends and spoke giddily about how excited she was to see her fiancé, and that's when things got extremely ugly.
At the live finale, Harrison told the audiences that they would be showing the most heartbreaking scene possibly in Bachelor history completely unedited and uncut. They even showed the breakup with cameras panned on Arie's face and Becca's simultaneously. It was seriously brutal. Arie admitted at the very least to Becca's face that he was still in love with Lauren and couldn't stop thinking about her. He admitted that he wanted to leave Becca in order to pursue a relationship with Lauren. Becca repeated several times, "Are you f*cking kidding me." Which — same, girl.
What's pretty clear is that this breakup came after Arie and Becca had been together for at the very least a while. They had been getting very comfortable with each other and starting to figure out what their lives would look like together. It was also clear that Becca thought that she and Arie had been working towards a future together, and that she had been kind and patient with Arie as he worked out his residual feelings for Lauren. Unfortunately she didn't realize that Arie wasn't telling her everything. At the very least, Becca has at this point had a couple months to realize that she deserves so much better.
Check out Romper's new video series, Romper's Doula Diaries:
Watch full episodes of Romper's Doula Diaries on Facebook Watch.