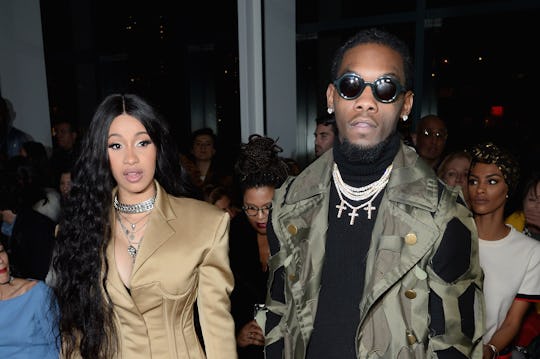 Andrew Toth/Getty Images Entertainment/Getty Images
Wait A Minute, Cardi B & Offset Have Reportedly Been Married For How Long?!
Cardi B is living her absolute best life at the moment. Following news of her engagement and pregnancy with her first child, reports are now circulating that the Bronx-native rapper is officially off the market. In fact, TMZ reported on Monday that the mom-to-be and Offset reportedly tied the knot quite some time ago. But let's back up a minute: When exactly did Cardi B and Offset get married and what's known about their reported nuptials right now? Romper's request for comment from both Cardi B and Offset's reps was not immediately returned.
In case you missed it, the 25-year-old rapper and her boyfriend — one-third of rap trio Migos — Offset, had a pretty public engagement back in October 2017. According to People, the couple got engaged at the Power 99's Powerhouse concert in Philadelphia on Oct. 28, 2017 when Offset proposed to Cardi B on stage. Then, Cardi B's pregnancy was confirmed in April 2017.
Since then, they've both been pretty open and public about their relationship, but recent reports might just indicate that they've actually been hiding a pretty big detail from fans. As TMZ reported, it looks like the two were actually married before their public engagement. Well, that's if the marriage licenses that TMZ reportedly found are to be believed.
As incredibly unbelievable as it sounds, TMZ did reportedly find a marriage certificate filed in Fulton County, Georgia on Sept. 20, 2017 for Kiari Kendrell Cephus and Belcalis Marlenis Almanzar. Those names might not ring a bell, they are the real, given names of Cardi B and Offset. So, yes, it appears as though the couple, who are expecting their first child together later this summer, could indeed be married already.
It's important to note that this has not been confirmed by either party, so perhaps it isn't true. However, if the reports were true, it would certainly explain a lot. For instance, at the BET Awards Sunday night, Migos won the award for best group, and when Offset took to the stage to accept, he gave an interesting speech — calling out Cardi B, but not as his fiancé or partner. "Thank God, I thank my wife, you should thank yours," he said, according to People. So maybe it was just a slip of the tongue, or maybe Offset was just thinking ahead when he thanked his "wife." But if they really were married nine months ago, then his speech would make a lot more sense.
But, it would be quite a shocker if the two had gotten married nine months ago and managed to keep it a secret for so long. Cardi B, in particular, has been pretty open with her fans, consistently taking to Twitter to vent out her feelings or just talk things out. In fact, Cardi B tweeted about her upcoming wedding as recently as Saturday, when she expressed her frustration at how difficult it was to plan her baby shower. "Baby shower planning makes me not even wanna do a wedding," she wrote, explaining how it was "Soo overwhelming."
Maybe they aren't married just yet, and that marriage certificate isn't the real deal. Or maybe they are married and they want to have a larger reception and ceremony after Cardi B gives birth, which is why they haven't told fans. Or maybe they eloped and wanted to keep it secret until they could properly celebrate with family and friends. Whatever the case may be, it's more than clear that the soon-to-be parents are totally in love and are ready to start their life together with their baby-to-be.