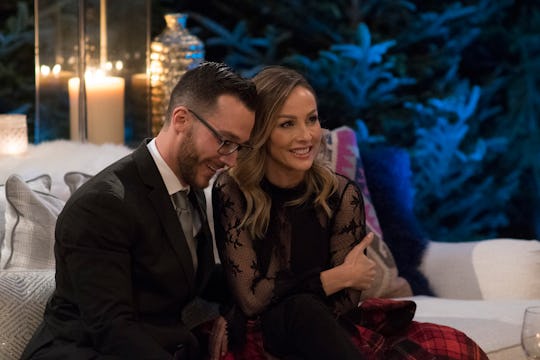 Lorenzo Bevilaqua/ABC
Here's Everything We Know About Clare & Benoit's Time Together Outside 'Bachelor Winter Games'
Were you also heartbroken when Clare sent Benoit home on The Bachelor Winter Games? Because I certainly was. He was adorable and seemed legitimately smitten with her. Luckily, their separation did not last as was proven during Thursday's World Tell All special. So when did Clare and Benoit get back together after The Bachelor Winter Games? The show may have been how they met, but their real love blossomed after the cameras stopped rolling. And honestly I am just so happy it all worked out this way in the end.
If you remember on the show, initially Clare had a hard time deciding between two guys, Benoit and Christian, the Bachelor contestant who'd appeared on both the German and the Switzerland versions of the show. At that moment, all of America collectively became Clare's best friend, screaming at the TV, "Girl! Benoit is handsome and charming and you guys kissed and have chemistry and he loves with you. Give this sweet man a chance!" Unfortunately, despite all of our screaming, Clare opted to not follow our advice and opted to explore things with Christian further. But it was pretty clear that Benoit was a better choice for her. And based on how things didn't work out with Christian, that fact became all the more evident.
When she and Christian left the house rather than participate in a sure-to-be cringeworthy kissing contest, everyone thought that was it for Clare on the show. But Chris Harrison always has a trick up his perfectly starched sleeve. On the reunion show, Clare confessed that she had found love post-Vermont. She told Harrison that as soon as she got home, she checked her phone and saw that she had a message from someone who had liked her. And this person honestly just wanted to make sure that she was OK. And that is how their love story began.
Harrison then announced that Clare's mystery man was actually there in the studio at that moment, and he was about to bring him out. And then out comes... Benoit! I literally yelled at my TV in excitement because more than anything after this show I really just wanted Benoit to find love. He was so earnest and kind and wore glasses so very well. It turns out that Benoit was the mystery man who texted Clare after the show — proving once and for all that what he felt for her was beyond real. They explained that their one conversation led to another, and they realized that they wanted to be together forever. And to top it all off, he got down on one knee and proposed!
Filming for The Bachelor Winter Games took place in late November and December, after Arie's season had wrapped up with their filming. If Benoit reached out to Clare right after she left, that would mean that the couple has been seeing each other for at least a few months. Sure, that's still pretty early for an engagement, but anybody who's ever watched a Bachelor show before knows that fast engagements are kind of its thing. Just think about all of those Bachelor couples who get engaged after only a handful of conversations together. But don't think too hard or you'll remember that most of them break up.
This is Clare's fourth time participating in a Bachelor show. She was on Juan Pablo's season and then two seasons of Bachelor in Paradise. Sure everyone says that third time's the charm, but maybe for Clare it's the fourth. Honestly, I couldn't be happier for them. I hope Clare gets to move to Canada and learn French and they can cook food together. Yay for Bachelor love.
Check out Romper's new video series, Romper's Doula Diaries:
Watch full episodes of Romper's Doula Diaries on Facebook Watch.