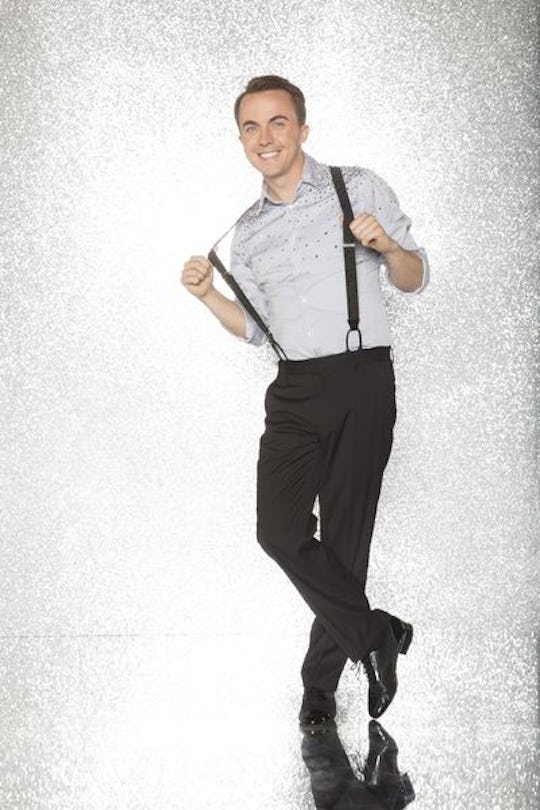 Craig Sjodin/ABC
Frankie Muniz Suffered From A Major Injury Prior To 'Dancing With The Stars'
On the premiere of Season 25 of Dancing with the Stars, Frankie Muniz revealed to his partner, Witney Carson, that he was dealing with some pain after a serious back injury from years ago. But when did Frankie Muniz break his back? In case you were unaware, Muniz quit acting back in 2006 to become a professional race car driver (as you do), and with that came some serious injuries that he's still dealing with almost a decade later. Seriously, Muniz, maybe it's time for a break?
Most people of course know Muniz as the witty lead of Malcolm in the Middle, a show about a young boy with three (later four) brothers who is diagnosed as a certified genius. By the time Lizzie McGuire was on the air, preteens (myself included) had officially dubbed Muniz as swoon-worthy. In 2003 he then appeared in Agent Cody Banks with Hillary Duff, as well as in the sequel a year later. After that, Muniz disappeared from acting — and the public — altogether. It turns out he was chasing some other dreams of his, which turned out to be much more dangerous than acting apparently, largely because they involved car crashes, which are obviously not often fun things to go through.
In 2007, People reported that the once beloved child actor was now a serious professional race car driver. "I like the fact that I basically control my destiny with how much effort I put into working out, testing and training and becoming a race car driver," he told the outlet. "As an actor, it's all what people think of you. You can do your best job possible but if someone says it sucks, it sucks. Whereas here, if I'm good, it will show." However, the downside to racing cars is the potential to crash into a wall and cause permanent damage to your body, and in 2009, that's exactly what happened to Muniz.
"Since 2006, I've broken 38 bones," Muniz told People. "My car flipped a bunch and I crashed into a wall. In the end, I broke my back, ankle, four ribs and my hand. My thumb was dangling by the skin." And it turns out that this injury is still causing him pain, and even impacting his training for Dancing with the Stars. "My lower back, it scares me because I'm trying to protect it when I dance and that makes me tense up, which isn't good," he said in another article from People.
But even while dancing through some serious pain, Muniz has made it to the top of the leaderboard in the first two weeks of Dancing with the Stars. On the show's fan-favorite Latin Night episode on Tuesday, Muniz received the highest score of the night, with two eights and a rare nine from judge Bruno Tonioli. I've said before that I didn't predict Muniz making it all the way on this competitio,n but I'm already prepared to eat my words. Based on his past few performances, he's ready to take it to the top. He clearly has the work ethic for it.
His video package from Tuesday night showed him working out, learning yoga, and doing cryotherapy in preparation, as well as continuing to practice even after needing a break because of pain in his back. That being said, I will be super angry if Muniz does permanent damage to himself because of his dedication to this show. But it seems like he's being careful and taking the necessary steps to ensure his continued health. Keep it up!
Watch Romper's new video series, Romper's Doula Diaries:
Check out the entire Romper's Doula Diaries series and other videos on Facebook and the Bustle app across Apple TV, Roku, and Amazon Fire TV.