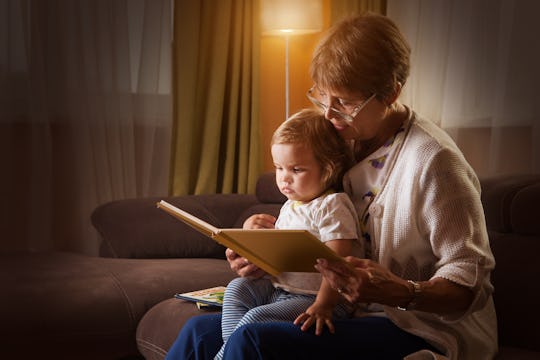 ulza/Fotolia
The History Behind National Grandparents Day Is Really Sweet & Fairly Recent
This Sunday, Sept. 9, is National Grandparents Day. If you don't have anything planned yet, don't panic – you still have time — and if you didn't even know Grandparents Day was a thing, you're not alone. Unlike the random "holidays" that pop up on social media all the time (like Cheese Lovers Day, Singles Awareness Day, and Crossword Puzzle Day), Grandparents Day is a legit national holiday. So, when did Grandparents Day start, who started it, and why? And most importantly, how should we celebrate it?
We can thank a West Virginian woman named Marian Lucille Herndon McQuade for bringing us Grandparents Day. McQuade became passionate about honoring the seniors in our communities after spending time with elderly nursing home residents. "Fearing that these people were missing out on important family bonding due to their need for intensive care, she petitioned the government for an official day of observance," Sara Coughlin wrote in an article for Refinery 29.
Of course, it didn't go national right away. McQuade first began pushing for her new holiday throughout her home state of West Virginia. According to GrandparentsDay.org, "Through her efforts, she reached out to the civic, business, faith, and political leaders and began a statewide campaign for Grandparents Day." In the year 1973, West Virginian governor Arch Moore made Grandparents Day a statewide holiday.
Grandparents Day remained a West Virginian thing for five years — until President Jimmy Carter decided it was time to make it a national celebration. On Aug. 3, 1978, President Carter released Proclamation 4580, making Grandparents Day an official national holiday. President Carter began by outlining his reasons for his proclamation.
Our nation was shaped by the wisdom and courage of our founding fathers, and by the steadfastness of succeeding generations who have sustained their vision through two turbulent centuries of challenge and growth.
Each American family is similarly shaped and guided by its forbears. Just as a nation learns and is strengthened by its history, so a family learns and is strengthened by its understanding of preceding generations. As Americans live longer, more and more families are enriched by their shared experiences with grandparents and great-grandparents."
President Carter went on to designate Sept. 10, 1978 as National Grandparents Day. In a later proclamation, given on Sept. 6, 1979, he makes Grandparents Day an annual thing. He wrote, "Now, therefore, I, Jimmy Carter, President of the United States of America, do hereby designate Sunday, September 9, 1979 and the first Sunday following Labor Day in each succeeding year as 'National Grandparents Day.'" And there you have it.
According to LegacyProject.org, "Mrs. McQuade wanted Grandparents Day to be a family day. She envisioned families enjoying small, private gatherings, perhaps even a family reunion, or participating in community events." While the purpose was to honor and celebrate grandparents, Grandparents Day also serves as an opportunity to connect the different generations of a family. After all, our grandparents are our roots, and our best connection to our personal family history.
If you don't live close to your grandparents or, if you're like me and don't have any surviving grandparents, you can (and are encouraged) to still celebrate. Send your out-of-town grandparents cards and flowers. Honor your late grandparents by telling your children all about them. Show them photos and teach them about these important figures in their family tree. "In keeping with McQuade's belief that the elderly mustn't be forgotten, you can 'adopt; a grandparent and spend the day with a nursing home resident who might not have grandchildren of their own," wrote Coughlin. They don't need to be your grandparent to be celebrated this Grandparents Day!