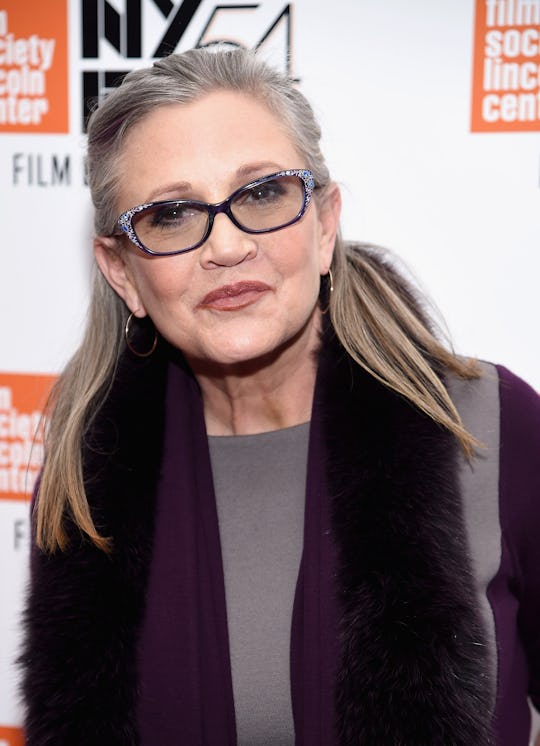 Dimitrios Kambouris/Getty Images Entertainment/Getty Images
When Did Harrison Ford & Carrie Fisher Have An Affair? She Was 19 At The Time
Though he was in his 30s and was married with children, Harrison Ford still pursued a relationship with 19-year-old Carrie Fisher while shooting Star Wars, Fisher claimed in her newly-released memoir, The Princess Diarist. "It was Han and Leia during the week, and Carrie and Harrison during the weekend," Fisher recalled. But when did Harrison Ford and Carrie Fisher have their affair? The two got together in 1976 for the three-month stint in which Star Wars' filming took place; It was over just as quickly as it began.
Forty years after the fact, Fisher feels like its time for enthusiasts to be let in on the behind-the-scenes happenings. Fisher pulled from her old journals to illustrate such a formative time. She even sent Ford a draft of the book, though Ford declined People Magazine's request for comment about it. Perhaps he's uncomfortable by some of his actions: Sexual involvement with a girl much younger than himself, pursuing an extramarital relationship while working, and the alcohol-fueled manner by which he and Fisher's entanglement began. "Harrison offered to drive her home when she was 'wine sodden' and they ended up in bed," Radar Online reported. The morning after their first night together, Fisher wrote about her insecurities after having been with Ford, saying:
I looked over at Harrison. A hero's face — a few strands of hair fell over his noble, slightly furrowed brow. How could you ask such a shining specimen of a man to be satisfied with the likes of me?
Though he was older and involved in another relationship, Fisher gave Ford the benefit of the doubt regarding his intentions. "I was so inexperienced, but I trusted something about him," she remembers, "he was kind." Given the circumstances as well as her young age, "It was so intense," Fisher admits of her affair with Ford.
Reports have claimed that Fisher criticized Ford's bedroom performance in her account — a falsehood that Fisher took to Twitter to denounce:
Fans everywhere are currently losing it over the "Carrison" couple that once was. It's the most intriguing Carrison development since fans learned in 2015's The Force Awakens that Han and Leia had had a child, but then separated.
Fisher seems to look back on her romance with Ford fondly, despite the context in which it occurred. Her book, set for release next week, will likely share even more yet-to-be-told moments, both from Carrison's past and from the Star Wars crew in general.