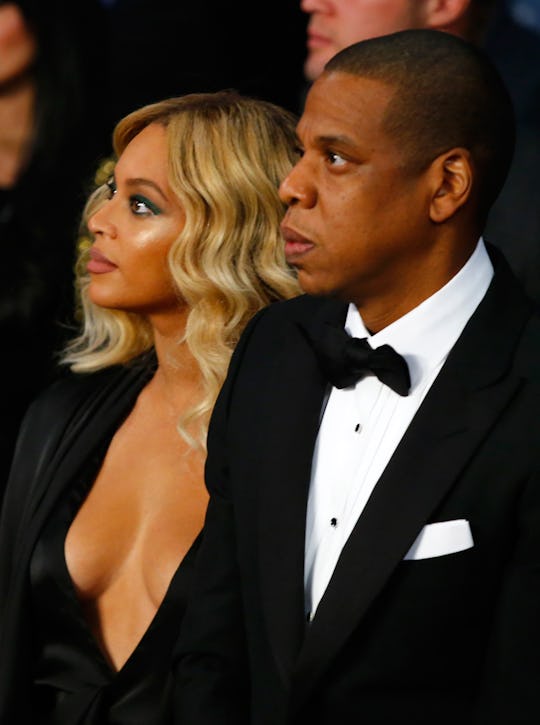 Al Bello/Getty Images Entertainment/Getty Images
JAY-Z Finally Admits To Cheating On Beyoncé — But When Did It Happen?
Even the world's most powerful and well-known couple has its fair share of problems. And when you're Queen B and legendary rapper JAY-Z, having your relationship struggles amplified by the media just comes with the territory. Fans had speculated for a long time that JAY-Z had been unfaithful to his wife of nearly a decade, and on Wednesday he revealed those rumors were true. So, when exactly did JAY-Z cheat on Beyoncé? Well, there's no real way to know, but the rumors surrounding his infidelity have indeed been swirling for several years now.
In an exclusive interview with Dean Baquet for T: The New York Times Style Magazine, the 47-year-old father discussed many things about his personal life. But, of course, the majority of the attention surrounding his interview has zeroed in on his comments about his wife, and both of their deeply personal albums: Bey's Lemonade and JAY-Z's 4:44. And it kind of makes sense. Because the truth is, accusations of JAY-Z cheating on Beyoncé have been out there since before the couple even got married, back in 2008. Of course, since then, the drama has only escalated, with the most pertinent cheating allegations really starting to pick up speed in 2012.
So, really, the question isn't when JAY-Z cheated, but if he did so more than once? Obviously, neither Bey nor JAY-Z has actually explicitly confirmed any of these rumors, but there's still plenty of information to analyze.
For example, back in 2005 there were plenty of rumors out there suggesting that JAY-Z was cheating on Bey with Rihanna. At the time, the rumors were so persistent that it actually allegedly caused the couple to split up for a while. In Becoming Beyoncé: The Untold Story, it was written that the couple broke up for about a year because of the Rihanna rumors.
Fortunately, they got back together, and Rihanna's publicist actually came forward to admit that he started the rumors as a way to garner attention for a new-on-the-scene Rihanna. "The PR stunt that I did was out of desperation to help break Pon de Replay," Jonathan Hay said in 2015, according to The Daily Mail. "It was reckless and I didn't think it was going to work. I was just throwing spaghetti at the wall to see what would stick."
Unfortunately, at the time, the rumors did stick, and they aren't the only ones to do so. In fact, in 2012 allegations were made that JAY-Z cheated on Bey with Rita Ora, who he signed to his new record label, Roc Nation.
Those rumors escalated to such a point that The Judiciary Report alleged that Beyonce "has been putting up with his extramarital affairs, with other singers such as Rihanna, whom he signed to a deal in exchange for sex." However, the Rita Ora rumors were also laid to rest soon after, in 2014, when she told a radio host who asked her about the rumors to back off. "Don't you dare disrespect Beyoncé like that ever again in your entire life," she said, according to Hollywood Life. "You should know better than that… that's just straight up disrespect. You can't even go there."
But, that wasn't the end of it. In May of 2014, the now infamous elevator incident occurred, and following it, rumors of JAY-Z having an affair with designer Rachel Roy came into focus. On May 5, Bey's sister, Solange, apparently attacked JAY-Z in an elevator, although no audio can be heard, and no real explanation has been given to date. Nevertheless, the incident sparked headlines and rumors for days, weeks, and months following.
And while many, many, many articles have gone into what the elevator fight could have been about, Us Weekly reported that, before the fight, Solange actually had some words with none other than one of the women JAY-Z had been rumored to have been having an affair with. According to Us Weekly, Solange had "yelled at designer Rachel Roy" earlier that night.
Of course, this doesn't confirm anything, although many in the Beyhive were convinced that Roy was the center of the couple's marital problems. And one of Bey's most iconic lines from her 2016 hit album, Lemonade, continued to spark the Roy rumors. "He better call Becky with the good hair," Beyoncé sings on "Sorry," and despite the fact that no one linked to JAY-Z is actually named Becky, fans pointed fingers at Roy and her signature good hair.
But, that doesn't tell us when the alleged cheating happened, although the imaginary Becky character made a reappearance on JAY-Z's 2017 album, 4:44, with the line:
Yeah, I'll f*ck up a good thing if you let me / Let me alone, Becky.
So, while it's unclear who JAY-Z cheated with, the when is also fairly confusing. Being a celebrity means being attacked with rumors on practically a daily basis. And, according to his latest interview, the rapper is ready to move forward with his life, and atone for his misdeeds. Speaking to Baquet, JAY-Z said that he and Bey had worked their way through the recent ups and downs of marriage:
You know, most people walk away, and like divorce rate is like 50 percent or something 'cause most people can't see themselves. The hardest thing is seeing pain on someone's face that you caused, and then have to deal with yourself.
Really, it doesn't matter when JAY-Z cheated on Beyoncé. All that matters is that the couple is working their way through their issues and being the best parents they can be to all three of their little ones.
Check out Romper's new video series, Romper's Doula Diaries:
Watch full episodes of Romper's Doula Diaries on Facebook Watch.