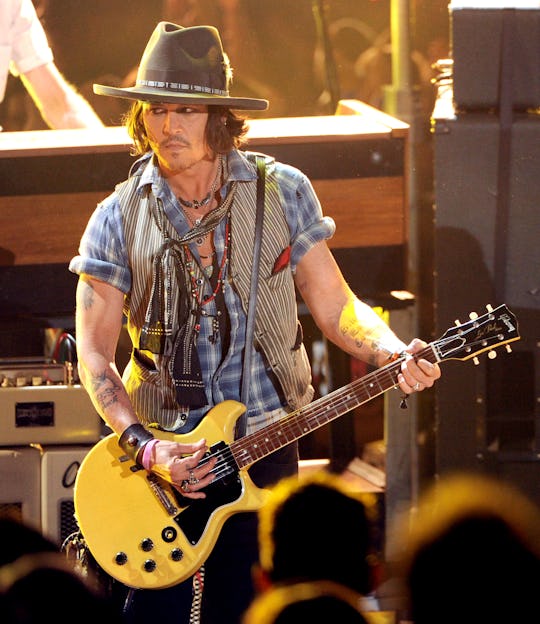 Kevin Winter/Getty Images
When Did Johnny Depp Learn To Play Guitar? He's Got Some Pretty Amazing Skills
Johnny Depp is a man of many talents. In his storied acting career, he's taken on the brooding bad boy, an awkward monster, an iconic candy factory owner, a murderous barber, and a pirate (I'm a particularly big fan of that last one, not that anyone cares). From comedies, to thrillers, to historical dramas, Depp has pretty much done it all (and done it well, no less). Now, it's time to add one more talent to that list: rocking out in his very own band. With his busy career (and busy home life), it's hard to imagine when Depp found time to learn to play guitar in the first place.
I take it back — to call Depp and co. a "band" is to do them a disservice. In reality, The Hollywood Vampires as they're called are actually more of a Super Group, with founding members Depp, Joe Perry of Aerosmith, and rock legend Alice Cooper at the helm. (The group takes its name from a '70s celebrity drinking club of the same name, of which both John Lennon and Keith Moon were once members; The rock group reportedly chose the name in tribute to the music of original Hollywood Vampires members who had died of excess, according to Rock in Rio.)
Although the group was first formed in 2015, Depp himself has been playing guitar for much longer. According to People, Depp initially used music as a way to distract himself from his real life problems. "Puberty was very vague," Depp told the magazine in a 1994 interview, discussing his teen years spent experimenting with drugs. "I literally locked myself in a room and played guitar." After a while, Depp said he began channeling that self-taught talent into bigger things, dropping out of high school at 16 to join the garage band The Kids, which was able to open for The Talking Heads at one point.
Although Depp ended up living out of his '67 Chevy Impala for a time, it was the success of his acting career that eventually allowed him to revisit his musical aspirations, and direct his energy back into the rock world. Since the mid '90s, Depp has been popping in and out of others' albums and live shows like something of a chameleon, most notably jamming out with Brit band Oasis on the 1997 album Be Here Now, and making an appearance alongside rock royalty Keith Richards in October 2011 at an after party for Depp's movie The Rum Diary, according to Stereogum.
Most recently, Depp and The Hollywood Vampires released an official streaming version of what Rolling Stone called "an especially raw" and "harder" version of The Who's "My Generation" for fans to download and indulge in, in between the group's live gigs. The band's first official album too contains musical cameos from such legends as Paul McCartney, Dave Grohl, Slash, Joe Walsh, AC/DC's Brian Johnson, the late Christopher Lee, and Doors guitarist Robby Krieger, according to the magazine.
And as for Depp's own talents? "[He's] a gutsy actor, a gutsy musician, a gutsy artist with passion," bandmate and Aerosmith guitarist Perry said at the 2012 MTV Movie Awards, where Depp played alongside The Black Keys and was given the MTV Generation Award as well. "He's legitimately great on guitar," Black Keys singer and guitarist Dan Auerbach added in an interview with CNN reporters after the show.
Depp may be known for his incredible acting skills and his ability to take on any character with finesse — but if you want to see where his heart truly lies, make sure to check him out during Monday night's big Hollywood Vampires performance at the 58th Grammy Awards, where he'll be rocking out alongside two of music's biggest stars. ... Not that you needed any convincing.