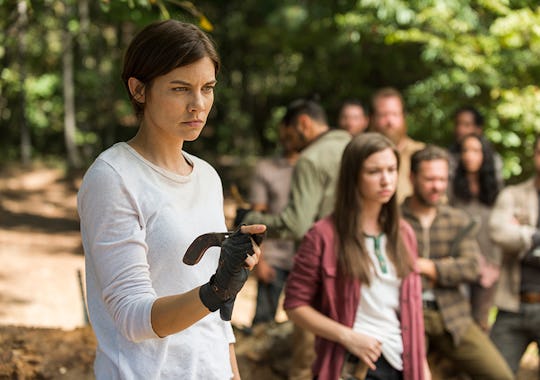 Courtesy of AMC
Here's What We Know About Maggie's Baby On 'The Walking Dead' So Far
So much has happened in between Season 8 and Season 9 of The Walking Dead. That's immediately evident when you watch the Season 9 premiere, which aired on Sunday, Oct. 7, on AMC. However, there is one question that everyone can't seem to stop asking: when did Maggie have her baby on The Walking Dead? Well, walker fans, I have good news and bad news. The good news? She definitely had her baby somewhere between the Season 8 finale and the Season 9 premiere. The bad news? No one seems to know when, exactly.
If you watched the Season 9 premiere of The Walking Dead, you already know that a significant amount of time has passed since Negan and Rick's face-to-face battle royale. Alexandria is, somehow, still standing — as is The Hilltop, where Maggie seems to still be running things. What we see in the Season 9 premiere is the vision that Rick always had, the one that Carl made sure to remind him of when he died in Season 8. But will we get any flashbacks to see how everything got so happy-go-lucky in a post-Negan world? It's unclear, but lets just say fans would definitely like to know more about Maggie giving birth.
During Season 8, fans seemed to constantly be questioning how far along Maggie actually was. As fans of the show might remember, we found out that she was pregnant back in Season 6, as Bustle previously reported, but the show somehow managed to not one, but two more seasons without Maggie showing so much as a bump. While that proved to be mystifying to most fans of the show, it actually has a lot of to with the timeline of each season. In fact, Season 7 took place over the span of 19 days, EW reported — that's not even a month, for those of you who don't know how to read a calendar. The same can be said about Season 8, which might have been even less days in The Walking Dead world, according to The Walking Dead Wikia.
But, there's more good news! Even though we didn't get to see much of Maggie's pregnancy, The Walking Dead's new showrunner, Angela Kang, has already confirmed that we'll be meeting her baby, as seen on The Walking Dead's verified Twitter account. Heck, even Kang is in on the joke that Maggie has been pregnant for what feels like, well, 12 years.
While finally getting to see Maggie be a mom is pretty exciting, one viewing of the Season 9 trailer also shows that she isn't ready to give up the fight for justice when it comes to her husband, Glenn Rhee's, stolen life. As fans might remember, Maggie was not happy with Rick in the Season 8 finale when he decided not to kill Negan once and for all. In the trailer, which you can watch below, we find out that Negan is still very much alive — and Maggie is still very much not happy about it.
So, how will Maggie deal with her anger in Season 9? I guess we'll all just have to keep tuning in on Sunday nights at 9pm ET to watch as The Walking Dead's Season 9 continues.