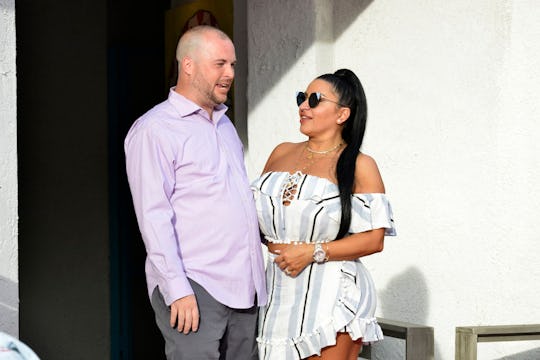 Jerod Harris/Bravo
Here's When Mercedes Javid & Tommy Got Married On 'Shahs Of Sunset'
One of the much anticipated storylines on Shahs of Sunset's upcoming season is Mercedes' tumultuous road to marriage. "When MJ finds herself plagued by indecision and self-doubt, the whole crew must come together to keep her steady and get her down the aisle," her Bravo bio teases ahead of Season 7. But the nuptials are heavily featured in the trailer, so we do know she got there. So when did Mercedes Javid and Tommy from Shahs of Sunset get married? They exchanged vows at the Jeremy Hotel in West Hollywood on Saturday, April 21 of this year, according to US Weekly, who exclusively covered the wedding. Reza Farahan served as the man of honor while MJ's dog was the ring bearer, and both bride and groom changed into party outfits for the reception.
The couple first got engaged on the show back in 2016 after meeting online, and MJ told E! News that part of what made their connection so special was the difficulties they faced early on in their relationship. "All of these stressful things just made our bond even tighter and when you have so many important life things happening, you don't pick fights with each other," she said. "You just want to stay sane and have as much gratitude and support for one another."
The Season 7 trailer opens with Mercedes poking fun at herself in an old 2012 clip where she mocks a bride trying on wedding dresses. Luckily, she has a sense of humor about her change of heart. "Remember me, the one who said never?" she says in a confessional interview. "Guess what, motherf*ckers. I'm getting married!" Antics leading up to her trip down the aisle, naturally, ensue.
Perhaps part of what makes this couple so compatible is the fact that Tommy, too, couldn't picture himself getting married, and always thought of the idea of spending forever with someone to be sort of ridiculous.
"I knew right away. Just because I've always been so anti-getting married and being with someone forever; I just think it's a ridiculous thing. And then when I found someone and I knew right away, it was instant," he told Bravo in a joint interview in May of 2016. Then he turned to MJ and said, "You're awesome. I'll tell you how I know because even when I hate you more than anything on this earth, I still want to be with you."
On a show that's been plagued with whirlwind romances and quickie divorces, it seems like MJ and Tommy have time on their side making their relationship work. Fellow cast member GG got engaged after three months of dating Shalom Yeroushalmi in December of 2016, then got married a month later, then split two months after that. Mike Shouhed wed his girlfriend of almost a decade on the show, too, and also divorced eight months later. Hopefully, the fact that MJ and Tommy had a nice long engagement means they'll be spared the fate of their castmates. You can watch their journey down the aisle when Shahs of Sunset premieres on August 2.