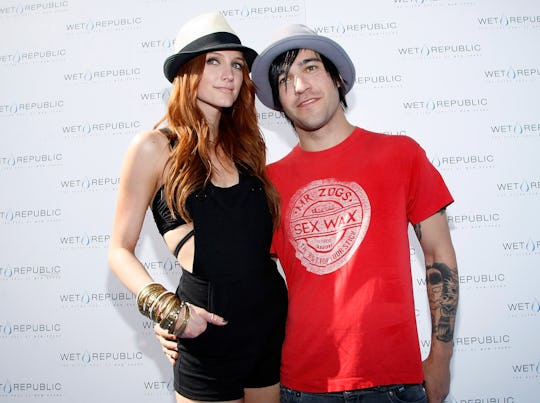 Ethan Miller/Getty Images Entertainment/Getty Images
Here's The Story Behind Ashlee Simpson & Pete Wentz's Divorce
Ashlee Simpson is making a return to reality TV nearly 15 years after her debut The Ashlee Simpson Show. Now on her second marriage and with two kids, Simpson hopes that her new E! series Ashlee + Evan will help demonstrate how far she's come as a person and as an artist. But viewers who haven't exactly been keeping up with her (admittedly pretty private) personal life may be wondering: when did Pete Wentz and Ashlee Simpson get divorced? They were basically the royal couple of the mid-2000s pop-punk scene.
Simpson and Wentz, best known as the bassist of Fall Out Boy, first got married in 2008 and welcomed their son Bronx Mowgli later that year. But in 2011, the couple announced that they were separating, citing irreconcilable differences. Simpson met and began dating her now-husband Evan Ross, son of the legendary Diana Ross, in 2013. They got married in 2014 and had a daughter named Jagger Snow in 2015.
After her divorce from Wentz, Simpson planned on releasing a fourth studio album. But when the sales for its debut single flopped, she decided to scrap the project and focus on motherhood. Now, secure in her marriage, her personal life, and motherhood, Simpson is heading back into the studio with Ross for a duet album, her first in 10 years.
The plan for Ashlee + Evan is to release a new song with each new episode of the show, which documents the making of the album, along with how the couple balances music, marriage, and kids in a blended family.
"I feel like people see pictures of us, but they don't know us," Simpson told the New York Times in a recent interview, hoping that the show would make the artists a little more accessible to their fans.
Ross was admittedly a little more reticent about doing reality TV, but Simpson firmly believed that opening themselves and their relationship up to the world would be a boon for them both. And for his part, Ross seems to understand that being under a microscope doesn't necessarily doom relationships; it just brings to the foreground problems that are already there.
"Everybody's like, are you worried about your relationship? And the whole thing like that," Ross said in the joint New York Times interview. "But I'm like, if something that bad happens in your relationship because you guys are working together doing a show, then you probably weren't supposed to be together. It might have helped you guys figure out that you guys weren't working!"
Simpson and Ross both count themselves lucky to have the support of their families in doing the show. Simpson's parents and sister Jessica are all slated to make appearances, while Ross remains coy about whether any of his famous siblings or his mom will be on it. According to the New York Times, "The show is currently being edited, and, [Ross] joked, some people 'might not make the cut.'" Ashlee + Evan airs Sunday nights on E!