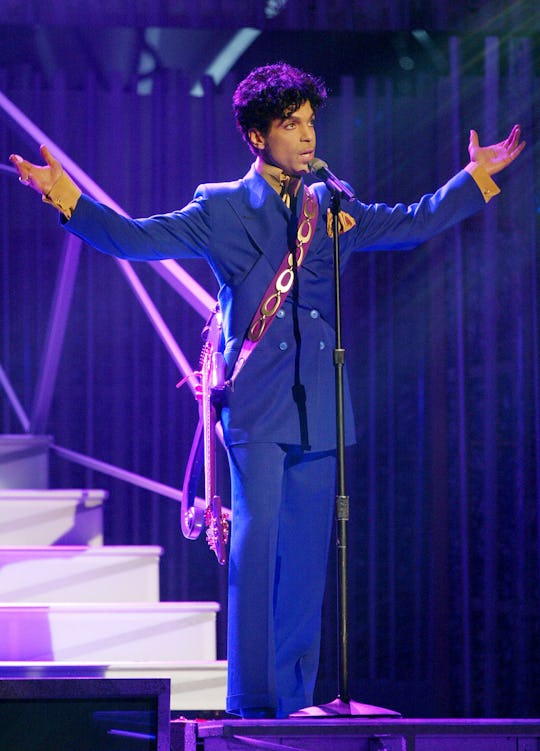 Frank Micelotta/Getty Images Entertainment/Getty Images
When Did Prince Become A Jehovah's Witness? He Was Heavily Involved With His Faith
The world has lost a music genius. On Thursday, less than a week after he was hospitalized with a bad flu, singer/songwriter Prince's publicist confirmed that he had passed away at his Paisley Park home in suburban Minnesota. He was 57 years old. Prince leaves behind a legacy as a singer, a musician, a style icon with a mind full of creativity and love. The world knows him as the prolific recording artist who always delivered memorable and flamboyant performances, even when he wasn't feeling his best. Prince was a strong symbol for love, but his faith and religion may not be as well-known. Prince is among a long list of celebrities who identify themselves as a Jehovah's Witnesses, but the pop icon hasn't always worshipped within the faith. So, when did Prince become a Jehovah's Witness?
Prince was a raised a Seventh Day Adventist, but later become a Jehovah's Witness in 2001 after a two-year debate with musician friend, Larry Graham. In an interview with The New Yorker in 2008, Prince spoke about his conversion and interest in the religion. "I don't see it really as a conversion," he said in the 2008 interview. "More, you know, it's a realization. It's like Morpheus and Neo in The Matrix."
According to The New Yorker, Prince would attend meetings at a local Kingdom Hall and would from time to time knock on doors to speak about his religion. "Sometimes people act surprised, but mostly they're really cool about it," he said in the same 2008 interview.
The Guardian wrote in 2004 about Prince's remarkable involvement with his new faith within his community. "A newspaper in his hometown reported how a married couple had answered their door to find Prince proffering a copy of the Watchtower," the paper reported. "Though they were orthodox Jews, and it was Yom Kippur, they were also Prince fans. They welcomed him into the house."
In 2005, Prince reportedly needed double hip-replacement surgery but wouldn't undergo the operation because Jehovah's Witnesses refuse blood transfusions.
Jehovah's Witnesses are an apocalyptic group that interprets the Bible differently than traditional Christian organizations. They distribute literature door-to-door, they do not celebrate birthdays or holidays, they refuse blood transfusions, and they will not serve in the military.
So, it was hard for fans to believe when Price's G-rated transformation hit newsstands. Back in 2001, recently after his conversion, he spoke to Gotham magazine about the importance of virtue and how teens need more God in their lives.
"When you use those (curse) words, you call up all the anger, all the negative times the word has been used before you bring it toward yourself," Prince said to Gotham magazine in May 2001. "When I look at the violence, I wonder where the parents are, but also where is God in their lives? A kid is an open computer ready for programming. Some weird relationships happen, smoking too early and sex."
Much of Prince's life was filled with the glitz and glamour and rock-n-roll of Hollywood, which may have made some of his later personal choices concerning morality quite difficult. But, his understanding of religion largely kept him out of the controversial spotlight.
In an interview in 2009 with The Los Angeles Times, which claimed that the musician had not voted for Proposition 8 (which made gay marriage illegal in California for a time), Prince said,
I have friends that are gay, and we study the Bible together. I didn't vote. I didn't vote for Barack [Obama], either. I've never voted. Jehovah's Witnesses haven't voted for their whole inception.
Prince is pop culture icon, easily remembered for sex appeal and steamy lyrics. But, he was also a conservative Christian and his later lyrics rang clear with spiritual themes. It was obvious his religion was important to him, but even more clear that love came before everything else.