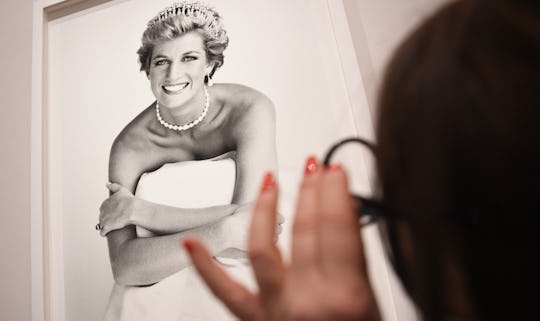 Stuart C. Wilson/Getty Images Entertainment/Getty Images
Princess Diana's Death Has Reached A Notable Milestone
With the 20th anniversary of Princess Diana's death approaching, there are naturally a lot of tributes coming out about the woman who was a global icon outside of just British royalty. Many people are using this time to remember her, but when did Princess Diana die? ABC's two-part special, The Story of Diana, airing August 9 and 10, is a homage to Diana that seeks to honor the woman behind the crown.
Princess Diana died in a Paris car crash on August 31, 1997 while driving through the Pont de l'Alma tunnel. She was in the car with her friend, Dodi Fayed, and the two were being driven by chauffeur Henri Paul, who was later ruled by courts to be "negligent in Princess Diana's death."
More than 10 years after the accident, the investigation was re-opened and after a six-month inquest, a new jury ruled that the accident was a result of both the level of alcohol in Paul's system and the pursuit of the paparazzi through the tunnel. The court determined they were "satisfied beyond all reasonable doubt that the deaths were caused by gross negligence." This trial sought to eliminate the many conspiracy theories that arose around Diana's death.
ABC's special will feature new interviews with family, friends, and colleagues from her years of charity work. Among that group is Diana's brother, Charles, 9th Earl Spencer, who explained in an exclusive clip from People why he has decided to speak about his sister so many years after her death.
"One of the reasons I wanted to talk now is because I think after 20 years, somebody shifts from being a contemporary person to one of history, actually," Spencer said in the clip. He went on to say that Diana "deserves a place in history," and that she was a "special person" beyond the beautiful "People's Princess" she was known as.
In addition to Spencer, audiences can expect to hear from Diana's friends Sir Richard Branson, Dr. James Colthurst, Vivienne Parry, and Wayne Sleep in the special, along with former palace staffers Mervyn Wycherley and Colin Tebbutt. Elizabeth Emanuel, the designer of her now historical wedding dress, and bridesmaid India Hicks will also share their memories of the late Diana.
It's also worth noting that the special will be presented in partnership with People, an oft-used magazine for Diana, who appeared on the cover a record-breaking 57 times. While her sons, Princes William and Harry, will not be directly involved, The Story of Diana is shaping up to be a fitting tribute to a woman who meant so much to so many.