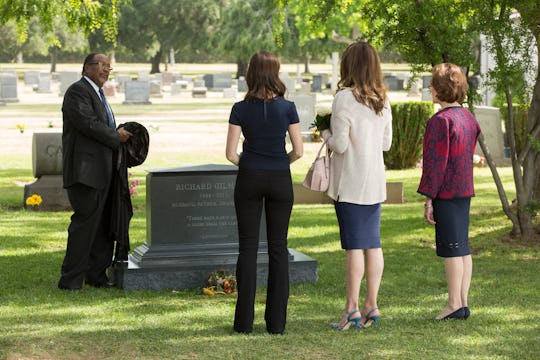 Robert Voets/Netflix
When Did Richard Die On The 'Gilmore Girls' Revival? It Was Only A Little While Ago
(Warning: This post contains spoilers from Episode 1 of the Gilmore Girls revival.) Richard Gilmore was the patriarch of the Gilmore family throughout the seven seasons the show aired and when Edward Herrmann, who played the iconic character, past away in 2014, Gilmore Girls fans of course grieved. Now after saying goodbye to Herrmann, fans must now say goodbye to Richard and the revival is the perfect way to do that. Although Richard has past away by the start of the revival, his passing wasn't as long ago as Herrmann's was in real life. So when did Richard die on the Gilmore Girls revival? Based on the flashbacks, it's clear Richard's funeral occurred four months prior to the start of the first episode, "Winter."
When Lorelai and Rory appeared at the Gilmore house for dinner, it was clear that Emily was mad at Lorelai for something. Honestly, Emily is almost always mad at Lorelai for something, so at first it didn't really seem like too big of a deal until Lorelai asked Rory if she ever told her what happened after Rory left Richard's funeral. And thus began the flashback. Jumping four months back, I was on the verge of tears as I watched the end of Richard's funeral. Although it wasn't said how Richard died, Lorelai did say it was quick so Emily didn't have to watch him fade away.
What was really important about the flashback though was the story Lorelai ended up telling about Richard. After Rory left, Lorelai shared a few scotches with her mother and ended up almost passed out sitting in the backyard along with Emily and Richard's friends. Emily asked everyone to share a fond story about Richard and Lorelai, who was a little drunk on alcohol and grief, ended up telling the story about how Richard left on a business trip instead of playing with Lorelai. She also shared a nice anecdote about how her father walked in on her having sex — and just in case you wondering, she was not losing her virginity at that moment. Yeah it was a little bad and inappropriate, but in Lorelai's defense she was grieving.
Although this led to a fight between Lorelai and Emily, it was a classic moment that wasn't all that surprising to see take place, and as always Lorelai and Emily were able to move past it... until they fought again anyway. It's nice to know no matter how many years pass, some things never change and people cope with things in many different ways.