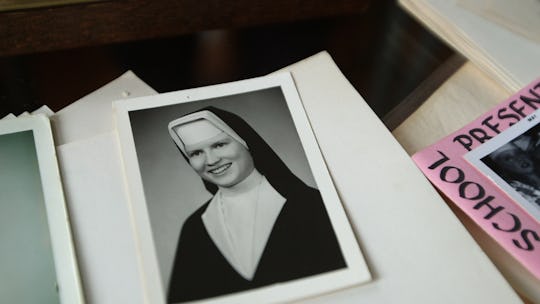 Courtesy of Netflix
Sister Cathy Cesnik's Death Has Gone Unsolved For Many Years
The murder of Sister Cathy Cesnik is the starting point of Netflix's true crime documentary series The Keepers. Cesnik was only 26 years old when she died, a young nun who had spent the last four years of her life taking on her very first teaching job at the Catholic high school of Archbishop Keough in Baltimore. Cesnik was deeply loved by her students and friends, making her sudden death all the more shocking. She didn't seem like someone who would have any enemies, though the events leading up to her death could explain what happened to her. But first: when did Sister Cathy Cesnik die?
The exact date of her death is uncertain. Cesnik disappeared on Nov. 7, 1969, abducted from a shopping center while she was out running errands. Her car was returned to a spot across the street from her apartment building, muddied but without a sign of Cesnik. It had presumably been left by her assailant. The mystery of what happened to Cesnik lingered for nearly two months until she was found dead on Jan. 3, 1970. Her cause of death was a blow to the head that left a distinct hole in her skull, though her neck also bore signs of choking. To this day, the case is unsolved.
However, as the years passed more information began to emerge. It became clear that in the months before the murder, some of Cesnik's students made her aware of the fact that they were being sexually assaulted by the school's counselor, Father Joseph Maskell. Cesnik allegedly promised at least one student, Jean Hargadon Wehner, that she would handle the situation. Another girl claimed to have seen Maskell at Cesnik's apartment the night before she died. Many have gone on to theorize that Cesnik was killed to keep her from exposing Maskell's actions. (He denied initial accusations until his death in 2001.)
What makes the case even stranger is that a woman named Joyce Malecki went missing just a few days after Cesnik. The cases were not dissimilar: Malecki was also taken from a shopping center and her body left in an isolated, wooded area. She was strangled to death and stabbed. Malecki was linked to Father Maskell (he was the parish priest at the church her family attended), but it's unclear whether or not she also knew about the abuse.
The timeline would seem to indicate that tensions were ramping up in the months before the murders, though there's no way to know for certain who killed Cesnik and Malecki without solid evidence. Their murders could have been entirely random occurrences, the work of an unknown serial killer; anything's possible. But there's also no denying that the timing was incredibly suspicious.