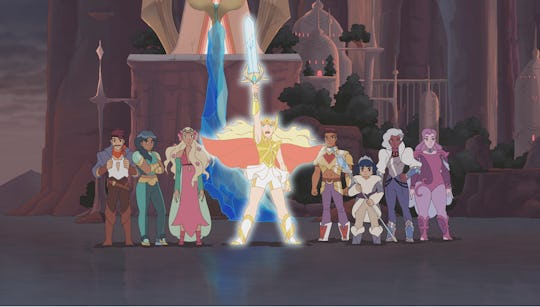 Netflix
Here's When The Original 'She-Ra & The Princesses Of Power' Aired
Pop culture fans of all stripes are awash in '90s reboots, so people tuning in to the new Netflix She-Ra reboot might be wondering: when did the original She-Ra and The Princesses of Power air? This one actually goes back one decade further. She-Ra: Princess of Power first debuted in 1985 as a "girls" complement to the popular He-Man cartoon. She-Ra and He-Man were twin siblings in the original, but the Netflix reboot thrusts She-Ra forward as the star of her own origin story. It's not yet clear whether He-Man will be a part of the story at all. Further driving its popularity was the fact that, as a significant financial backer of the show, Mattel made a line of She-Ra action figures and toys which flew off shelves and were destined to become collectors' items. She-Ra: Princess of Power was canceled a year later in 1986 after just two seasons, but it ran for 92 episodes, cementing it as a vintage girl power animated classic.
When the artwork for the rebooted She-Ra was released last summer, a small but vocal faction of fans took to Twitter to complain that the new She-Ra wasn't "sexy enough" in comparison to the original. Both the 1985 version and the 2018 version are marketed to kid audiences, which makes this an objectively weird observation! But She-Ra and The Princesses of Power showrunner Noelle Stevenson says the show has gotten much more support than criticism.
"We have this wall of fan art in the office that we've been adding to, whenever new fan art comes in and it's exploded. That's so much of what I've seen in response and by comparison, the naysayers haven't been the loudest voice," she said at a Netflix panel for the show at New York Comic Con, according to Variety. "So I think, when I get that question, I'm kinda just like, 'Why are those the voices that we center? Why are those the opinions that we raise up, above other opinions?' I'm interested in that."
Depending on where you spend the bulk of your time on the internet, you may know Stevenson from one of many places, according to Thrillist: her viral hipster Lord of the Rings fanart, as the co-developer of the comic series Lumberjanes, as an artist credited on issues of Marvel's Thor Annual or Runaways, or from her graphic novel Nimona.
In an interview with Thrillist, Stevenson explained how not necessarily styling She-Ra's characters with "sexy" outfits makes them way more relatable to kids, anyway, saying:
I wanted the characters to feel free and like they're expressing their personalities while also just, you know, being relatable. The idea that a kid could wear their sneakers and their shorts to cosplay She-Ra is really exciting to me.
Ultimately, the She-Ra reboot brings the classic way, way into the future, with more diverse representation on the show's staff, in its cast, and in how the characters are drawn. Yup, this kids' show is unmissable (perhaps even for adults). It is now streaming on Netflix.