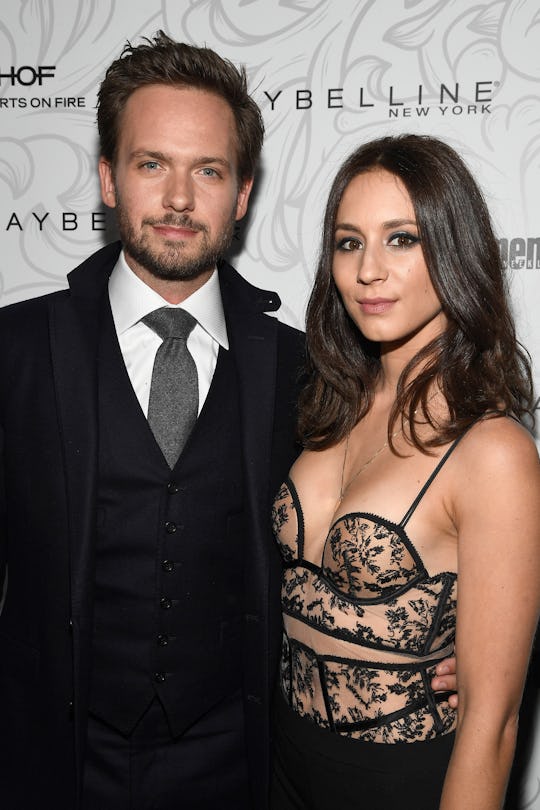 Frazer Harrison/Getty Images Entertainment/Getty Images
Troian Bellisario & Patrick J. Adams Have Been Married Longer Than You Think
If you are a fan of Pretty Little Liars, you may or may not be aware of the fact that Spencer Hastings herself is married in real life. She and Patrick J. Adams, of Suits fame, were engaged for a couple of years before they were finally married. But when did Troian Bellisario and Patrick J. Adams get married? They're not exactly newlyweds anymore.
In an Instagram post, Bellisario once explained that the couple were friends eight years before they ever got married, according to Cosmopolitan. Bellisario explained in the social media update that eight years prior, the two actors "were tired and overworked and just wanted to have some peace and quiet," so Adams invited her over to his apartment, and revealed that he had built them a pillow fort. How adorable is that?
That first pillow fort led to many more years of forts the two shared together. In fact, the hashtag for their wedding was actually #fortday2016, in honor of their little tradition. On the Instagram post when Bellisario and Adams got married, Bellisario wrote, "Two days ago we decided to make the biggest fort we could dream of and we asked all our friends and family to come in it." And that's how they got married, back in December 2016.
Bellisario and Adams got married on Dec. 10, 2016, according to several Instagram posts. And it looks like the entire affair was a dreamy, bohemian-themed extravaganza.
But how exactly did their love story begin? In an interview with HerWorldPlus.com in 2013, Adams said:
We did a play together in LA called Equivocation. She was cast for the part of my romantic interest. We met and that was it. That was a little more than three years ago.
I mean, people say a common place to meet your partner is at work, right?
Adams also guest starred on Pretty Little Liars, according to HerWorldPlus.com, so the two got to spend a little time together as thespians that way as well.
When Bellisario and Adams finally got married, it was after they got engaged in February 2014, according to People. They got married in southern California surrounded by about 200 guests. And instead of gifts, they encouraged those guests to donate to the David Suzuki Foundation and SickKids Hospital instead.
And it sounds like the wedding weekend was a really good time for everyone who attended. Guests reportedly camped out in glam camping tents at the wedding venue, and the ceremony itself was set in a small, intimate area surrounded by trees, People reported. The outlet also noted that the setting was complete with candles and vintage wooden theater chairs for guests to sit in during the ceremony.
Bellisario wrote on Instagram that the fact that so many people who loved the couple embraced their "fort day" idea for their wedding showed her that "any of the tough times we've had making 8 years of long distance work was worth it. The pining. The missing. The quiet nights alone believing that it would be worth it. We were right to believe in us."
And the couple is still going strong. In fact, Bellisario and Adams are expecting their first child together, according to People. The actress hasn't actually confirmed her pregnancy, but former costar and friend Lucy Hale recently spoke about it with People and Bellisario has been seen out and about with a baby bump.
It's really anyone's guess whether Bellisario and Adams still make time for "fort days" these days, especially around other big events going on in their lives like preparing for a new baby or attending the royal wedding of Prince Harry and Meghan Markle. But I truly hope it's a quirky tradition they keep up with, because it sounds as unique and special to them as it sounds incredibly romantic to the rest of the world.