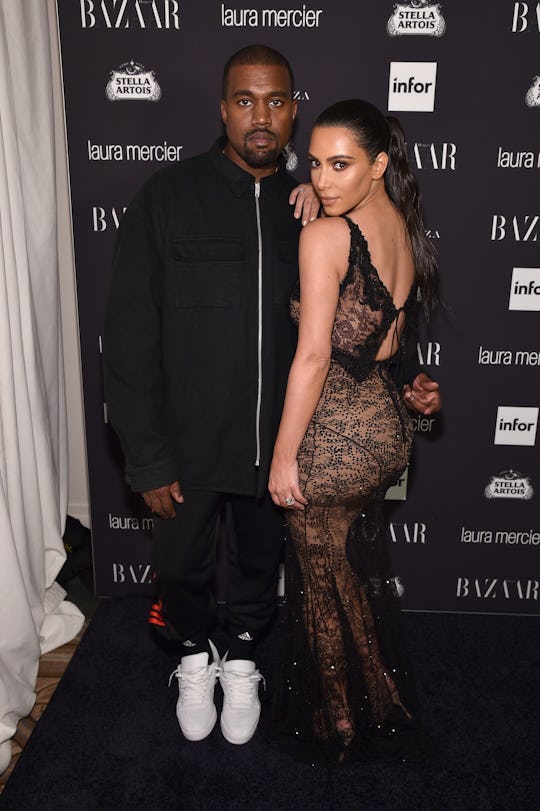 Bryan Bedder/Getty Images Entertainment/Getty Images
'KUWTK' Showed A Behind-The-Scenes Peek At Yeezy Season 7
On Keeping Up With The Kardashians Season 15, viewers get a glimpse into the KarJenners's lives and many business pursuits. As Kim Kardashian West helps her husband, Kanye West, promote his brand Yeezy, some fans may ask: when did Yeezy Season 7 release? Kim is stressed out over shooting looks for the brand on KUWTK.
I'm going to be real here: there is no straight answer to this. Kanye West has been rolling out pieces from his latest Yeezy collection since late February, when Kim wore unreleased Yeezy Season 7 pieces for the paparazzi. It seems that the collection was supposed to drop in early March, but there was some drama that got in the way. YeezyMafia, a Twitter account that was verified at the time though not affiliated with the brand, shared on Twitter that the Yeezy Season 7 showroom was empty — only shoes, no apparel or accessories.
Always standing by her man, Kim took to Twitter to blast YeezyMafia for giving false information. "Season 6 was genius," Kim tweeted. "All of my Japan looks are season 7 & will be online soon. Yeezy does not play by fashion rules. The show room was strictly shoes & always intended for that."
Fans will soon see that she was telling the truth, as Kim discusses shooting Yeezy Season 7 in the next episode of Keeping Up With the Kardashians. In the promo, Kim mentions how stressed she is by having to shoot 20 looks in just a few days. Seeing as Kim had already overcome this Herculean task when she tweeted YeezyMafia (March 6), KUWTK must have shot before then.
That doesn't give the entire picture of this Yeezy collection, though. In what Hypebeast called a "relentless rollout," Kanye gave another Yeezy Season 7 preview in May on Twitter (those tweets have since been deleted). As of September there was still no formal unveiling, but items like transparent PVC boots were released under Yeezy Season 7. The latest addition appears to be the Adidas Yeezy Boost 700 'Mauve,' which comes after the release of the Adidas Yeezy Boosy 700 'Wave Runner.' The 'Mauve' is set to release October 27, so it appears that the Season 7 rollout just keeps going and going.
This strategy may be unorthodox, but that's pretty par the course for Kim and Kanye. During her takedown of YeezyMafia, Kim said that "Yeezy has its own universe," and is not like other fashion houses. Kim is more than just a hype woman and model for Yeezy, though: she owns part of it. On Ashley Graham's new podcast Pretty Big Deal, Kim talked about how Kanye's Mother's Day gifts this year were a million dollars and a percentage of Yeezy.
Let me explain, because Kanye didn't go around giving portions of Yeezy to just anyone. Kim was apparently approached by another company that, according to her, copies Yeezy a lot. They offered her a million dollars to make a sponsored post. While it was a tempting offer, Kim declined because she didn't want to go behind Kanye's back for a company like that (Declining a million dollar offer? Goals).
On Mother's Day, a Yeezy assistant came in her room with a big envelope. Inside was a check for a million dollars. Kim told Ashley Graham, "It was a note saying, 'Thank you for always supporting me and not posting.'" That wasn't all; there was also a contract inside the envelope. Kim continued, "It was a contract to be an owner of Yeezy and have a percentage. Like, a full, thick contract of my percentage of Yeezy. That was my Mother's Day present." Fans and sneaker heads can look forward to more Yeezy Season 7 (and possibly 8? 9?) items, now with Kim K's input as well.