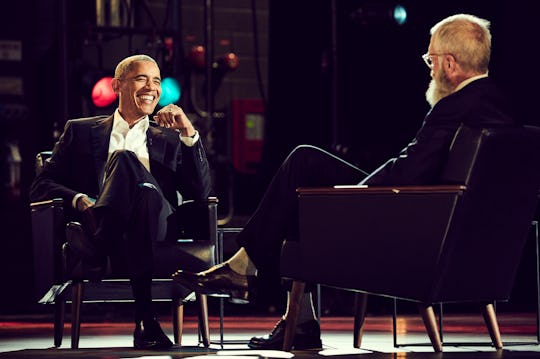 Netflix
David Letterman's New Netflix Series Is Only Just Getting Started
The legendary late night talk show host, David Letterman, who first hosted Late Night on NBC and then went on to host the Late Show on CBS, has a new show on Netflix. Appropriately titled, My Next Guest Needs No Introduction with David Letterman, the new series will show Letterman having honest and open conversations with a notable line up of guests. However, unlike most Netflix series, the entire first season won't release in one day. So when do new episodes of David Letterman's Netflix series air?
The first episode of the series was released on Friday, Jan. 12. President Barack Obama was Letterman's first guest, which also served as Obama's first talk show appearance since leaving office last year. Following the release of the premiere, new episodes of the series will air on a monthly basis, though it's unclear if it will air on the same day each month. Regardless, this is definitely a series you'll want to tune in to when the time comes. Along with President Obama, the guests scheduled to appear on the show are definitely big names and include the likes of George Clooney, JAY-Z, Tina Fey, Malala Yousafzai, and Howard Stern.
Each episode of the show will be centered around one guest that Letterman is interested in, and the two will engage in an in-depth conversation, both in the studio, in front of a live studio audience, and outside of a studio setting. The show will also include field segments with Letterman taking trips that are somehow related to the guest featured on each episode.
In the first clip released from the show, President Obama and Letterman are sitting and talking about the last time Prince came to the White House before he died. The conversation, though done on a stage in front of an audience, feels casual, like two old friends just catching up with each other. The pair are quite familiar with each other, actually. Obama visited the Late Show with David Letterman three times, and even made a special appearance during Letterman's final days on the show. Plus, for both Obama and Letterman, it's their first return to TV.
Obama, who's always been naturally charismatic, makes Letterman laugh in the clip as he explains how he tries to keep his dad moves "in the pocket." Although his daughter, Sasha, can dance quite well, apparently she didn't get those moves from her dad, so when she asked him to join her while she danced onstage with Prince, Obama had to keep his dad moves in check. In the episode, Obama will also be discussing his life after the presidency and what he believes are the most pressing issues currently facing our country.
It'll be interesting to see how the show plays out and differs from Letterman's past shows. Obviously, Netflix is a much different platform than CBS or NBC, but regardless of where the show is airing or the format, Letterman is still Letterman. You can probably expect the same level of humor and heart in this new series, just shown in a slightly different way.
Hopefully the series will do well and will continue on into the future. It definitely holds a lot of promise, with such an incredible guest list for its first run, and I know I certainly can't wait to watch. Although there are a lot of great talk show hosts out there, there's only one Letterman and it's great to have him back. You can see the first episode of My Next Guest Needs No Introduction right now on Netflix. Don't miss it!
Check out Romper's new video series, Romper's Doula Diaries:
Watch full episodes of Romper's Doula Diaries on Facebook Watch.