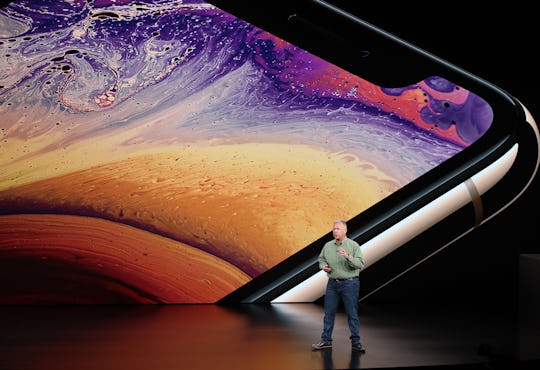 Justin Sullivan/Getty Images News/Getty Images
Here's When You Can Get Your Hands On The Newest iPhones
Apple hosted its annual fall event on Wednesday, Sept. 12, introducing consumers throughout the world to its newest batch of products, including the iPhone XS, iPhone XR, and iPhone XS Max. Considering the launch of any new iPhone tends to spark mass excitement, it's no surprise many people are clamoring to know when the new iPhones will come out.
Tim Cook, the CEO of Apple, took to the stage at the company's headquarters in Cupertino, California on Wednesday morning to share some thrilling updates with customers. "We are about to hit a major milestone," Cook shared during a live stream of the event, according to NBC News. "We are about to ship our two billionth iOS device." Impressive, right?
Speaking of iOS devices, Cook also unveiled its latest iPhones during the presentation — the iPhone XS, iPhone XR, and iPhone XS Max. "Today we're going to take iPhone X to the next level," Cook said moments after the big reveal, according to CBS News.
Cook wasn't kidding when he promised to upstage the new iPhones' predecessors. Philip Schiller, head of marketing at Apple, claimed the iPhone XS product will be "the most beautiful iPhone we've ever made" and that its new glass is the "most durable ever," according to The Guardian. If you drop your phone on the regular like I do, you probably applauded at Schiller's note about the glass.
Additionally, the iPhone XS boasts a new A12 bionic chip (the thing that powers the phone) that allows it to perform "5 trillion operations per second," according to The Wrap. Oh, and did I mention that the iPhone Xs launches apps 30 percent faster than other iPhones? Or that it has 30 more minutes of battery life than the iPhone X? Yep, it's clear this latest version of the iPhone is slated for greatness.
As for the iPhone XS Max, it "offers the biggest display ever in an iPhone with the biggest battery ever in an iPhone, delivering up to an hour and a half more battery life in your day," according to Apple Newsroom.
The iPhone XR — the more affordable version of the XS — is as equally as impressive. The device offers "IP67 water resistance, a battery that lasts an hour and a half longer than last year's iPhone 8 Plus, and a single 12-megapixel camera that is capable of portait-style blurring effects," according to The Verge.
So when will these magical devices come out? Preorders for the iPhone XS and Max begin on Sept. 14 and ship on Sept. 21st "in select countries, with rollout in other countries to follow," while preorders for the iPhone XR are available on Oct. 19 and will ship on Oct. 26, according to The Verge.
Of course, countless customers are chomping at the bit to place their preorders.
"While most people are excited for makeup launches, i'm over here anxiously waiting to preorder the new iphone," someone wrote on Twitter.
Another person chimed in: "Soooo excited to preorder the iPhone XS Max."
"If y'all think I'm stupid enough to pay $1099 for the iPhone XS Max.... you're absolutely right, when can I place my order? LMAOOOO," one customer joked.
A commenter tweeted: "Setting an alarm for 3am on friday to preorder iphone xs i hate myself."
As some people mentioned in their tweets, it's a good idea to set an alarm at 12 a.m. Pacific Standard Time when the new iPhones go on sale, according to the Daily Mirror.
Additionally, don't forget to update your Apple Wallet with a working credit or debit card. The last thing you want to do on preorder day is waste time typing in your payment info.
Happy ordering, you guys. May the force be with you on Sept. 14 and Oct. 19.