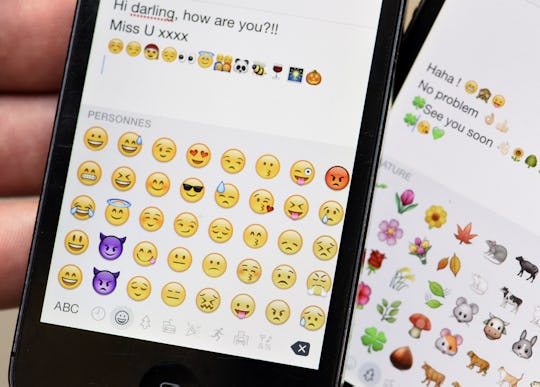 MIGUEL MEDINA/AFP/Getty Images
When Do The Unicode 10 Emoji Come Out? Users Will Love This Update
Soon there will be a new handful of emoji that you can add to your phone's keyboard so you can fully communicate your message with fewer words. Some of the additions include an emoji of a mother breastfeeding, a woman wearing a hijab as well as a slew of new food and animal emoji, like a pretzel and a T-Rex. The excitement for these new additions surely has many asking: When do the unicode 10 emoji come out? Users will likely have to wait a few months, as the new emoji were approved on Thursday and are reportedly due for release in 2017, probably in May, June or July.
According to 9 to 5 Mac, a news and reviews for Apple products, the new set of emoji are based on requests from outside parties to the developers that have been submitted over the past year. This current list of emoji have been approved, but it's not finalized yet, so additional emoji candidates will continue to be added throughout 2016.
As of right now the published Unicode Consortium list includes 51 candidates, which may include some mythical creatures such as a vampire, genie, elf, fairy, zombie or mermaid (or merman). Here's the full list of possible emoji that might make be on your keyboard next year.
"Emoji candidates are often chosen for multiple reasons, ranging from expected high frequency of use to requests from online communities," according to MacRumors.com. "Others fill in gaps in existing emoji sets or are compatible with current emoji characters."
The new list clearly shows that emoji developers are continually making an effort to add more options for the diverse user base that adds these little images into their messages every day.
The list also indicates there will be some more simple, yet unique options to choose from that could be used for several every day situations, such as a sandwich emoji, a zombie emoji, a brain emoji, and a "face with open mouth vomiting" emoji.
While these emoji have been approved by Unicode, users will have to have for them appear on their phones until mid-2017. This lighthearted and happy news is just what the world needed as many are still coming to terms with the presidential election results.
So although they are just little images to spice up your text messages, these new emoji will soon serve a very important purpose as they increasingly representing a wider demographic. And that deserves a "thumbs up" emoji.