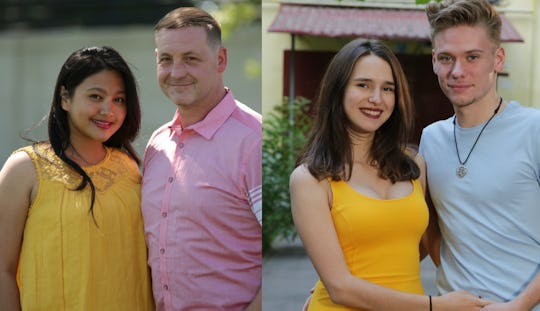 Courtesy of TLC
'90 Day Fiancé' Season 6 Premieres Soon, & Here's Everything You Need To Know
Between 90 Day Fiancé and its three spin offs (Happily Ever After?, Before the 90 Days and What Now?), there is enough rushed-engagement content to keep fans occupied for months on end. And luckily, even more 90 Day Fiancé content is on its way to a TV near you, because 90 Day Fiancé Season 6 is about to drop. Here's everything you need to know about the premiere date, cast, and more.
Season 5 of 90 Day Fiancé concluded way back in December 2017, giving the crew plenty of time to put Season 6 together. The new season is scheduled to premiere on TLC Sunday, Oct. 21 at 8:00 p.m. ET, according to a press release TLC sent to Romper. The season will chronicle six engaged couples, each comprised of one United States resident, and one person from another country. The couples will all have 90 days — the length of a K-1 visa, according to the U.S. Department of State's website — to get married once the foreigner lands in America. But if things don't go well, not only will the engagements end, but the foreign half of the couple will also have to leave the country.
TLC shared a trailer of the upcoming season, introducing fans to the six couples — and making it clear that Season 6 will be as drama-filled as ever.
Here are the six couples and everything known about them so far.
1. Jonathan, 32 and Fernanda, 19
While visiting Mexico, Jonathan, who is from North Carolina, met Fernanda at a nightclub, according to TLC's press release. He extended his trip a few days to spend more time with Fernanda in Mexico, and three months later, the two were engaged. Expect the age difference to come up a lot between them. "People say, you know '19 years old, she's just using you.' Maybe she could be," Jonathan says indifferently in the trailer. Not to mention, the trailer shows Fernanda dramatically throwing a drink at a woman who she thought was flirting with Jonathan at a club.
2. Kalani, 29 and Asuelu, 23
Kalani, who lives in Orange County, California, met Asuelu while she was on vacation in Samoa. As she tells the cameras in the trailer, she lost her virginity to Asuelu on her trip, and she got pregnant. Kalani had their baby, and the couple is now engaged. Kalani's family, who raised her as a Mormon, is skeptical of Asuelu, TLC's press release notes. It seems like his 90 days in America will be focused on gaining her family's trust and approval.
3. Eric, 40, and Leida, 29
Leida, a young woman from Indonesia, is in for a rude awakening when she arrives at the home of her fiancé Eric, a divorced father-of-three from Baraboo, Wisconsin. The couple met online, according to the press release. In the trailer, Leida looks shocked by the state of Eric's messy apartment. "What the f*ck is this?" she says upon entering his home. "Leida comes from a wealthy background, so I'm concerned the life I have here isn't enough for her," he tells the cameras.
4. Ashley, 31 and Jay, 20
Ashley and Jay met in Jay's home country of Jamaica, when Ashley was visiting from Pennsylvania for a friend's wedding. Jay reconnected with Ashley on social media, and she came to visit him in Jamaica six months later, where he proposed. And by the way Ashley talks about Jay in the trailer, it's clear that she is infatuated by him — perhaps a little too infatuated. "If Jesus came down from heaven right now and said [Jay] cheated on me, I wouldn't do anything about it," Ashley tells a friend in the trailer. Girl, come on.
5. Colt, 33 and Larissa, 31
Colt, who lives in Las Vegas, and Larissa, who is from Brazil, met on social media. Soon after, they met up for the first time in Mexico, where Colt proposed. Expect this storyline to be filled with skepticism and drama, because the trailer makes it clear that Colt's friends and family do not approve of Larissa. "That bitch is for his money, period," a friend of Colt's says. "I'm really tired of your bullsh*t," Larissa replies. "She's taking advantage of you and you need to f*ckin realize," the friend shoots back.
6. Steven, 20 and Olga, 20
While most of the couples this season either met outside of the United States or online, Steven and Olga actually met when Olga was spending the summer in America. During their fling, Olga found out she was pregnant with Steven's baby. She returned to Russia, and the young couple decided to get engaged and have Olga move to Maryland so they can raise their baby together. In the trailer, a friend of Olga's asks Steven, "Are you here for child, or for Olga?" He replies, "It wouldn't have happened without the baby." Ah, what every woman wants to hear...
If you're anything like me, you watch reality TV for the dramz — and it sure seems like 90 Day Fiancé's sixth season is going to deliver in that department.