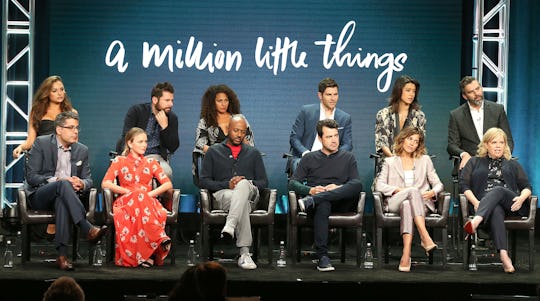 Frederick M. Brown/Getty Images Entertainment/Getty Images
'A Million Little Things' Premieres Soon, So Grab The Tissues *STAT*
It's official: Grab your cable-knit sweaters and Kleenex boxes. 'Tis the season for all things pumpkin, cozy, and fall TV. The new lineup is looking pretty stellar with promises of more laughs, more guest stars, and — you guessed it — more tears. I'm talking about the new thought-provoking drama, A Million Little Things, though the show's already been compared to the brilliance of This Is Us. But no pressure. So, when does A Million Little Things premiere? Sooner than you think, actually.
Set your DVRs now because AMLT will steal your hearts starting Wednesday, September 26 at 10 p.m. ET, according to ABC. Promos for the show reveal a group of friends from Boston who bond over extreme and unexpected circumstances (aka they're trapped in an elevator together = my worst nightmare). It's important to note there may or may not be a trigger warning attached at the start of the show (there really should be), but the show's inciting incident is a suicide. As most friendships go, the connections between the group are lost and found again through the years. One of them — Jon, a wealthy and well-loved businessman played by Ron Livingston — dies by suicide and the remaining survivors are set on a journey of finding themselves through the swell of grief. I'm not crying, you are.
If you love This Is Us and find yourself in search of a new show willing to rip your heart out and maybe help you put it back together, early viewer buzz suggests you give this one a try. Critics, though, are split. According to Variety, the show may be "predictable," while a recent Huffington Post review fears the tear-jerker setup is problematic, making an overtly complex subject matter (mental health; suicide) too simply put, penning someone's tragic death as a "wakeup call" for all those around him. As with any show tackling mental health — and after the sudden deaths of designer, Kate Spade and chef Anthony Bourdain (as well as Linkin Park singer, Chester Bennington, last summer) — we can only hope AMLT treats each thread with the careful hand it deserves.
During the Television Critics Association summer press tour, cast and creators answered questions surrounding the show's themes. Series creator, DJ Nash said there will be a PSA at the end of the pilot featuring Mike Shinoda (of Linkin Park) and Bennington's wife, Talinda. "We have to make sure that we're not doing exactly what you're saying, which is romanticizing suicide," he said. "We're telling the story in a different way. You can watch the show and see that these people's lives are forever changed by this. I don't think people will watch this show and go, 'Oh, I want to do that too.' If anything, I think it is a cautionary tale."
That aside, a lot of AMLT seems as though it could hit the same beats as This Is Us, depending on what you're looking for in an hour-long heart-breaking show. Both deal with an unexpected death, both explore what happens in the wake of said deaths, and both attempt to tackle the more difficult subjects in pop culture (like mental health). If you're still processing Jack Pearson's death on TIU (or even William's, which, let's face it — I'll never recover), you'll either tune in to AMLT to work through the holes TIU left, or you won't, fear of drawing unfair comparisons. Either way, I'd hit the store up for every box of tissues in stock, just in case.
The verdict? If you're looking for something in the realm of This Is Us (which airs Tuesday nights on NBC), prep your tear-ducts and clear your Wednesday nights to check it out. With so many new shows premiering next week (yay!), AMLT could be your next obsession, as long as you go in emotionally prepared. As for both shows, waterproof mascara is the real MVP.
If you or someone you know is exhibiting warning signs of suicide, call the National Suicide Prevention Lifeline at 800-273-TALK (8255).