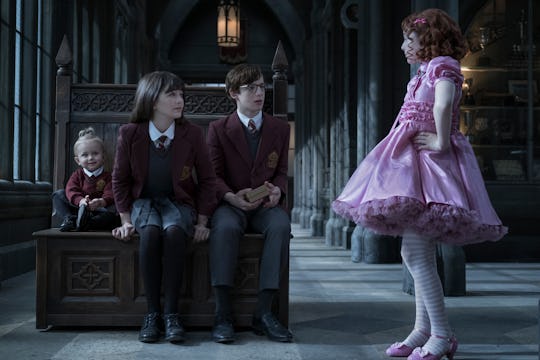 Joseph Lederer/Netflix
There's Nothing Unfortunate About It: 'A Series Of Unfortunate Events' Will Be Back For Season 3
The second season of A Series of Unfortunate Events has just arrived, but fans are already looking forward to Season 3. Thankfully, when the series was renewed for a second season, it was picked up for the third one as well, promising more unfortunate journeys to come. But when does A Series of Unfortunate Events Season 3 premiere?
There's no official release date yet, but you can probably expect Season 3 to drop sometime in 2019 since the first season came out in 2017 and the second was released this year. However, I feel obligated to warn you that the third installment will, in fact, be the Netflix show's last, according to Deadline. Though many fans may have expected as much already.
The TV series has been using a particular formula when it comes to covering the classic book series. Get particular book lasts over the course of two episodes total. So since the first season (which was made up of eight episodes) covered the first four books and there are only 13 books in the entire book series, it makes complete sense that the series will only last three seasons, with the second season covering books 5 through 9 and the final season covering the last four. The arrangement is a little different than expected (Season 2 is actually 10 episodes long), the final outcome is the same. Executive producer and star of the series Neil Patrick Harris confirmed in an interview with TVGuide.com that the series would end with Season 3.
Thus, unlike other book adaptation series, A Series of Unfortunate Events will conclude where the book series ends, which isn't too surprising since the show has been sticking pretty close to book, a fact fans have been loving.
When it was first announced that ASOUE was going to Netflix as a TV series, many people were worried, especially after the film adaptation of the first three books in the series didn't do so well. Some were also worried about Harris playing Count Olaf. Would he be able to pull off playing the villain? It turned out that he very well could.
Both viewers and critics have loved the TV series, hence why no one was shocked when it was renewed for Season 2 and 3. By breaking up each book into two episodes, the TV series has room to really show pretty much everything that happened in the novels. Similarly, the first season added in another plotline about the adventures of "Mom" and "Dad," which was a nice cloak and dagger trick, as many people thought they were the Baudelaire children's parents. Instead, "Mom" and "Dad" were actually the parents of another set of children: the Quagmires.
Even for fans of the books, this parent twist caught them by surprise, because although it's very clear the series will be full of "unfortunate events" one can't help but hope for a better outcome. This parent twist did a great job of adding something new to the TV series, but still tied into the books, as the revelation of who the parents really were led into the introduction of the Quagmire triplets who play a much bigger role in Season 2.
Suffice to say, the writers of the series have handled the series with immense care and thoughtfulness, staying close to the source material but still giving those who already know how the story ends something to look forward to. It's been great to see these incredible stories come to life onscreen, and though it'll be hard to say goodbye to it when it ends with Season 3, there is still plenty of time to go before that happens.
For now, fans can just enjoy Season 2 of A Series of Unfortunate Events, which is now streaming on Netflix, and gear up for Season 3, which will hopefully come sooner rather than later.
Check out Romper's new video series, Romper's Doula Diaries:
Watch full episodes of Romper's Doula Diaries on Facebook Watch.