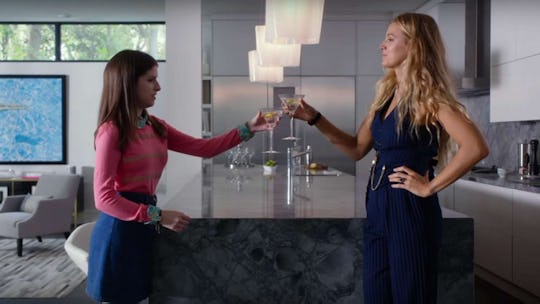 Lionsgate
'A Simple Favor' Is Coming To Theaters Soon, So Clear The Squad's Calendar Now
They are best friends, they are moms, and they seem to have absolutely nothing in common other than that. In A Simple Favor, a film based off of the novel by Darcey Bell, actresses Anna Kendrick and Blake Lively portray two unlikely friends who find themselves in a twisted domestic thriller. So, when does A Simple Favor come out? You're in luck, because A Simple Favor has a release date of September 14, making in the perfect way for moms to take a night off, get together, and celebrate their kids going back to school. You're welcome for that fine idea, by the way!
As you can see in the trailer just below, it is their children who bring Emily (Lively) and Stephanie (Kendrick) together on a rainy day after school. Friendship sparks fly, and before you know it, Emily and Stephanie are best buds. Or are they? The trailer reveals some red flags early on in the friendship, like when Stephanie takes Emily's picture and Emily demands she erase it. Weird, no? Anyway, the real mystery begins when Emily asks Stephanie for, you guessed it, A Simple Favor, and then vanishes into thin air. Once she realizes Emily is gone, Stephanie, a mommy blogger, uses her online reach in hopes of finding her new friend.
As previously mentioned, A Simple Favor is based off of a novel of the same name. The novel was originally published on March 21, 2017, and the story is told by three different characters: Stephanie, Emily, and Emily's husband, Sean. It received critical acclaim, with multiple comparisons to best selling thrillers like Gone Girl and Girl On The Train, both of which were also made into films. "'Gone Girl' gone nuclear, 'Gone Girl' on steroids, amphetamines and cocaine," wrote book critic Jay Strafford for Richmond.com in April 2017.
Lively and Kendrick are joined by Henry Golding in the role of Emily's husband, Sean. You might recognize Golding from 2018's most anticipated comedy, Crazy Rich Asians, where he played the leading man, Nick. In A Simple Favor, Sean finds himself smack dab in the middle of Emily's mysterious disappearance while her best friend, Stephanie, is snooping around and his son, Nicky, claims he's been seeing his mom. Creepy, no?
To add to the creep-factor, A Simple Favor has seriously upped it's social media presence in order to draw moviegoers in. For example, fictional Stephanie has her own Instagram account (@stephanie_hi_moms) where she shares zucchini cookie recipes and cries about her missing friend, Stephanie. Some pictures on the account include screen grabs of text messages Stephanie has sent to Emily since she went missing, as well as the last messages she received from Emily. Other than that it's pretty basic mommy blogging stuff, like tips on how to make friendship bracelets, organize bookshelves, and admitting to needing to pay the "oopsy" jar a few too many times after a "bad week."
Meanwhile, the account for fictional Emily is drastically different. The faux Instagram (@hope.for.emily) has 15 posts in total, most of which are artsy shots related to fashion and high-end home decor. To add to the mystery, most of Emily's pictures don't have a caption, and absolutely none of them show anyone's face — including a picture of two pairs of feet close together on the beach. It definitely leaves you wondering why Emily was so afraid to open up on social media, doesn't it? What exactly could she have been trying to hide from the world and her so-called best friend, Stephanie? Or it just makes you wonder who thought up such a brilliant marketing plan for A Simple Favor.
Either way, A Simple Favor will be in theaters on September 14, as promised above. Until then, be sure to pick up a copy of Darcey Bell's novel if you're interested in unraveling the mystery on your own before then!