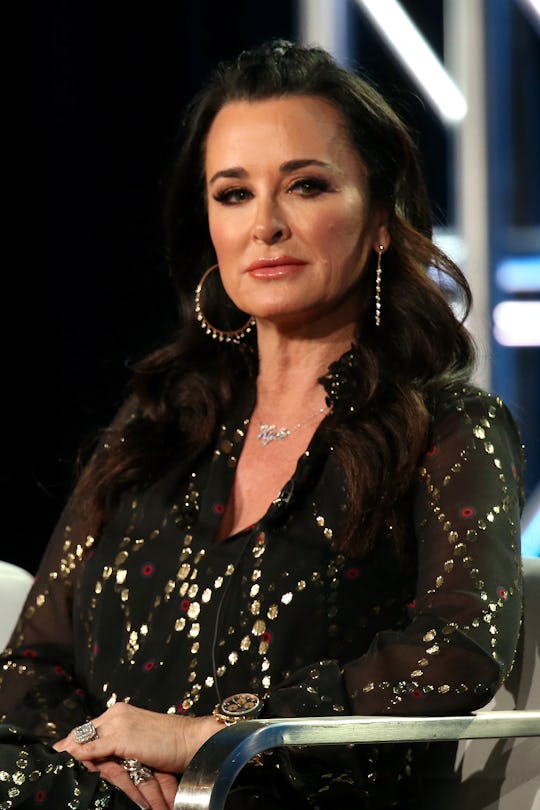 Phillip Faraone/Getty Images Entertainment/Getty Images
Here's Why 'Real Housewives' Fans Will Love Kyle Richards' New Show
If you've been watching The Real Housewives of Beverly Hills for the past season or two, then you've probably heard Kyle Richards mention her show, American Woman, a time or two. (OK, so it was more like a thousand times, but you get the idea.) So when does Kyle Richards' show American Woman premiere? This new series on Paramount takes on the reality star's unique upbringing, and will be premiering in just a few months' time. Honestly, I can't wait to see this. The Richards family is basically Hollywood royalty at this point.
In case you were unaware, Kyle and her sister Kim Richards (who was once part of the Real Housewives of Beverly Hills cast but left the show) grew up as child stars in Los Angeles back in the 1970s. While Kim gained most of the fame for playing Tia on the classic kids' movie Escape to Witch Mountain, Kyle was best known for her recurring role on Little House on the Prairie. The two little girls were in dozens of movies and TV shows throughout the decade, and obviously had a very unique upbringing. So naturally their story makes for a good plot of a TV show. American Woman tells the story of Kyle and Kim's mother Kathleen (named Bonnie in the show), and how she raised her daughters as a single mom.
The show is set to premiere on June 7. It stars Alicia Silverstone as Bonnie, the single mom raising two child-star daughters in the 1970s. Mena Suvari and Jennifer Bartels act as Bonnie's two best friends Kathleen and Diana. Kyle herself is a co-executive producer on the show, and talks about how the whole thing was inspired by her mom. USA Today reported her saying at the Television Critics Association, "My mom really was a woman before her time. In the '70s, it wasn't a popular thing to be a strong woman. If you were strong and had a voice, you were thought of as a pushy broad where, nowadays, it's like boss lady. It wasn't like that back then."
As an executive producer of a show based around her own life, Kyle is once again opening up about her family and personal life, though in a far different way. "I felt like I needed to be there. Not only do I need to be there to make sure the story's told the way I see it, but also I wanted to learn every step of the way," she told Variety of her involvement with the show on a day-to-day basis. Though even with her involvement, the story doesn't follow the literal truth of her life with mom in every case. For example, she told the outlet that her own mother would never have pawned her jewelry, joking that "she would have probably rather starved!"
On The Real Housewives of Beverly Hills, Kyle doesn't go into that much detail about her interesting childhood, though she has mentioned it from time to time. On that show she instead invites audiences to gape at her incredible house, her frivolous renovations, her Hermes bags, and her fights with her friends. She lets the audience into her life on that show as well, but perhaps without quite the same amount of depth.
All I know is that once The Real Housewives of Beverly Hills wraps up the season, I'll need something else to watch. And considering how much I adore Alicia Silverstone (Clueless will always be close to my heart), I have a feeling I'm going to be learning a lot more about what makes the Richards sisters tick. I honestly can't wait for this to premiere.
Check out Romper's new video series, Romper's Doula Diaries:
Watch full episodes of Romper's Doula Diaries on Facebook Watch.