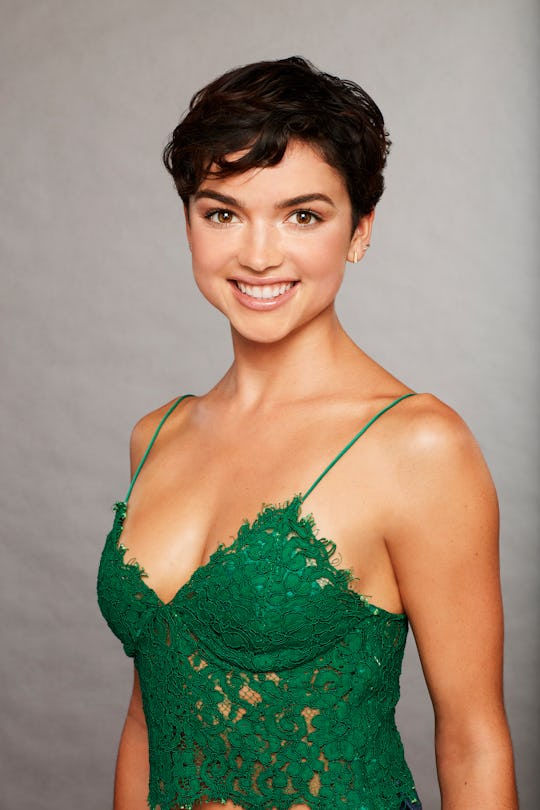 Craig Sjodin/ABC
It's Only A Matter Of Time Until Arie Learns Bekah's Secret On 'The Bachelor'
There are some aspects of The Bachelor contestants that viewers pay attention to even before the season starts. One is age, and seeing as Arie is one of the older Bachelors, Bekah's age seems to be a major focus this season. So when does Arie find out Bekah's age on The Bachelor? She is currently 22, while Arie is 36.
Arie's age has been a point of discussion since he was chosen as Season 22's Bachelor. While he is over than the average lead, he is not the oldest. The oldest Bachelor so far has been Bryon Velvick from Season 6. At the time, he was 40 years old. The youngest Bachelors have been Ben Higgins and Jesse Palmer, who were both 26 when their seasons aired. So, while Arie is on the higher end of the spectrum at 36, he's not the oldest. In fact, last season's Bachelor Nick Viall was the same age when he was a lead. In both of those cases, Nick and Arie have been involved with the franchise for some time. Nick had been on two seasons of The Bachelorette as well as Bachelor in Paradise. Arie has not been through the ringer like that, but it's been six years since his time on Emily Maynard's season on The Bachelorette. At that point, he was 30 years old.
The Hollywood Reporter predicted that age would be a big topic on Arie's The Bachelor, and they've certainly been correct. What's interesting, though, is that Arie's age was considered an asset on Emily's season as one of the final four. Two men, Chris Bukowski and Jef Holm, were in their mid-twenties at the time and were questioned whether they wanted to marry someone right now, let alone become a step-father seemingly overnight. In the end, though, age did not matter to Emily and she chose Jef.
According to Arie, though, it's maturity and not necessarily age that counts. "I think it's more about the person and if they're ready for marriage and how mature they are," he told The Hollywood Reporter. "Some women are far beyond their years and some women are very immature in their thirties — I've dated younger, older." Ultimately, he wants someone who would be ready for that "next step": marriage. "It's more about being ready," Arie said. "I was open to a variety, and that's something that the producers knew."
Well, even though there's a "variety," all 29 of the contenders are younger than Arie. Most, in fact, are in their 20s; only six are in their 30s. Bekah is the youngest contestant at 22 (the minimum age to audition for The Bachelor is 21). Even before the season began, her age became a topic of conversation because Bekah's ABC biography at first listed her age as "N/A" (now it does not list her age at all). She seemed to play upon the age difference when she first met Arie during the premiere. She drove up in a cherry red '65 Mustang and said, "I may be young, but I can appreciate something classic."
Arie appreciated the joke, but given that he was inundated with introductions that night, he may not know just how old Bekah is yet. When will he find this out? Seeing as it's already been discussed among Bachelor Nation, it may be brought up sometime soon. Like Arie said, though, it's more about attitude than age. Just because Bekah is 22 years old doesn't mean she's immature, or that she's not willing to make a serious commitment. Being 22 also means Bekah is old enough to decide what's best for her; Bachelor Nation's opinion is not needed. Whether Bekah and Arie will ride off in the '65 Mustang together is unknown as of yet, but I'll be rooting for her.
Check out Romper's new video series, Romper's Doula Diaries:
Watch full episodes of Romper's Doula Diaries on Facebook Watch.