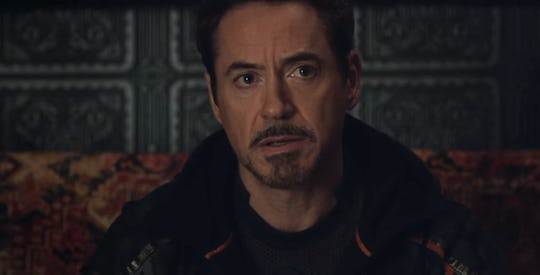 Marvel/YouTube
The 'Avengers 4' Premiere Will Prove To Be Bittersweet For Marvel Fans
While everyone's totally excited about Avengers: Infinity War finally hitting theaters, others can't help but wonder what comes next. Infinity War is definitely the Marvel Cinematic Universe's biggest film to date, so how can they possibly top it? Thankfully, the creators behind the films seem to already have a plan in mind since there will be an Avengers 4 coming our way. So when does Avengers 4 premiere? Thankfully, these epic superhero team-ups aren't over just yet.
While the movie itself has yet to be given an official title, it is slated to come out on May 3, 2019. The sad part is this film will mark the final Avengers movie and the end of an era in the Marvel franchise. Kevin Fiege, president of Marvel Studios, told Vanity Fair that Avengers 4 will be "a finale" of sorts. Though there will, of course, be more Marvel movies in the future that feature various heroes on their own separate journey, like Captain Marvel, this will be the end for many beloved members of the Avengers team. "There will be two distinct periods. Everything before Avengers 4 and everything after," Fiege said.
Thus, following Avengers 4, you can expect a new generation of Marvel superheroes to take over, while the characters you've known and loved over the past decade will most likely be bowing out. That includes Captain America (Chris Evans), Hulk (Mark Ruffalo), Iron Man (Robert Downey, Jr.), Black Widow (Scarlett Johansson), Thor (Chris Hemsworth), and Hawkeye (Jeremy Renner), whose contracts are coming to an end.
But before you get too sad, there is still one more Avengers movie to go (two if you're counting Infinity War). Thus, there's still plenty to look forward to in the coming year and even after the Avengers movies are completed there are still so many other characters to work with that you can expect a plethora of Marvel movies in the future. This year alone you'll see the release of Ant-Man and the Wasp in July. And while these two films don't fall under the Marvel Studios umbrella, there's also Deadpool 2 coming out in May and Venom due out in October. So really, this is still only just the beginning.
As for what to expect in the final Avengers film, it's hard to say. As I mentioned, the title of the movie is currently under wraps, presumably because it may give away what happens in Infinity War. Originally, the last two Avengers films were titled Avengers: Infinity War Part 1 and Avengers: Infinity War Part II, leading many people to believe the two films would be telling the same story just split into two parts. However, screenwriters Christopher Markus and Stephen McFeely told IndieWire that was not the case, hence the title name change.
"'Part I' and 'Part II' implies that you took one big piece of source material, you cut it down the middle... We were clearly not doing that. We're not taking a story that everyone knows and cutting it in half arbitrarily," McFeely said. "We were just trying to tell two big movies that were related in some way."
Markus also added that the two films are also "very different." They're so different in fact that McFeely said the difference between the films is like "the difference between Ant-Man and Black Panther." That's quite a comparison. So even though the two movies are still going to be connected, as all MCU movies are, don't expect them to be exactly same, which is honestly a good thing. No one wants to see the same story played out twice.
Other than the fact that the two movies will be different, nothing about Avengers 4's plot is known. Most likely, Marvel won't reveal what it's about until after the hype around Infinity War dies down and that could take a while. Until then, make sure to check out Infinity War and see if you can figure out any clues about what's next for the Avengers.
Check out Romper's new video series, Romper's Doula Diaries:
Watch full episodes of Romper's Doula Diaries on Facebook Watch.