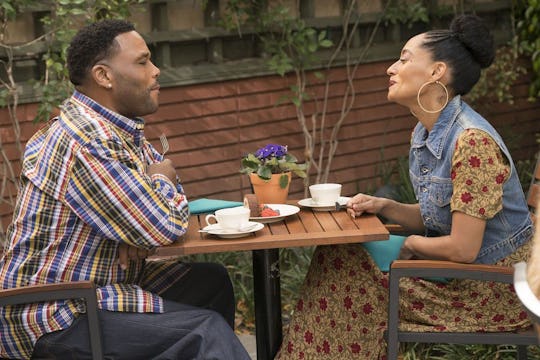 Ron Tom/ABC
'black-ish' Could Look Like A Totally Different Show In Season 5
Just when it seems like every show is being cancelled, ABC comes through and renews black-ish for a fifth season. The popular sitcom — which spawned the spin-off series, grown-ish — continues to be a hit, so the renewal didn't come as much of a surprise but it's still good to know the show is definitely coming back for another installment. Now the only question is: when does black-ish Season 5 premiere?
Almost every season of black-ish has made its debut in the last week of September with the exception of Season 4, which began in the first week of October. So if black-ish continues to air on Tuesdays this fall, fans can probably expect the series to return on either Sept. 25 or Oct. 2. However, this is just a guess and since ABC cancelled nine of its shows this season, that leaves a lot of room for black-ish to be moved around to another night. But even if it is moved, it'll still most likely premiere around one of those dates.
To make sure you don't miss the premiere though, it's probably best to just keep an eye out for ABC's official fall schedule. It'll most likely be announced at the end of the summer or early fall.
Although fans are certainly glad black-ish was renewed, many are probably also concerned about what the next season will look like. Currently Dre and Bow are separated and it looks like things are only getting worse, not better. Fans are worried they'll actually end up getting a divorce and some are even threatening not watch the next season if Dre and Bow aren't together any longer.
With the season finale on the horizon, it makes sense if viewers are holding out hope that Dre and Bow will figure out a way to make their marriage work again. However, the preview for the finale doesn't look good. Now that Dre's out of the house, he's looking to lease a new place, something Bow is obviously not happy about. But he is giving her the space she asked for, so has she changed her mind? Will she ask Dre to move back in? It's hard to say, but based on the continued dull color scheme that's been occurring in the past few episodes, even if Bow does ask Dre to move back in, it won't fix everything.
That being said, perhaps they just need to take this one step forward to begin fixing their marriage. Maybe if Dre moves back in and they continue with marriage counseling, Dre and Bow can figure out how to repair what's been broken. Hopefully. If not, it does seem like black-ish will look like a very different show in the fall.
One of the many reasons fans love the show is because of how great the Johnson family is as a whole. Though Dre and Bow have definitely always had their differences, mainly because of their different backgrounds, at the end of the day it was always clear that they loved each other and they loved their kids. Dre and Bow became a symbol of black love on television, something that isn't often seen on TV series, especially on network television.
The show has been consistently compared to The Cosby Show because of its ability to tackle real world issues while also having a loving family at the heart of the show. If Dre and Bow get divorced, it'll change that image completely. That's not to say that the Johnsons still couldn't be a happy family — in fact, it could end up showing how families are able to recover and lean on each other when such a divide happens. But it still would be heartbreaking for fans to see.
So will Dre and Bow be able to make it work or is this really the end for them? You can find out by watching the season finale of black-ish on Tuesday, May 15 at 9 p.m. EST on ABC.