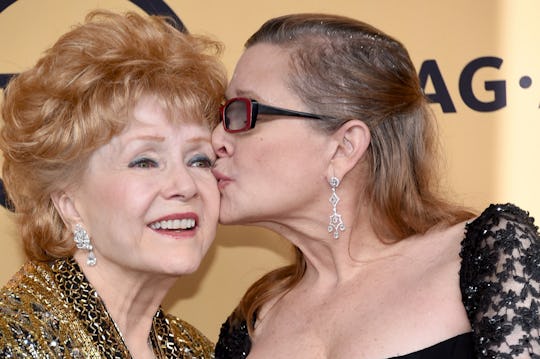 Ethan Miller/Getty Images Entertainment/Getty Images
'Bright Lights' Premiere Date Is Moved Up
Unless you've been living under a rock in some galaxy, far, far away, you had to have heard the heartbreaking news that Carrie Fisher, and her mother Debbie Reynolds have passed away within a day of one another. Everything about the two has been rather romantic, including their deaths. The partings have left fans inconsolable, but movie buffs can finally take solace in HBO's Bright Lights documentary, which freezes private moments of the famous mother-daughter duo in time. Filmed mainly in 2015, viewers get an up-close and personal look at their favorite movie stars' inseparable relationship. So when can people stop crying, and start smiling at the witty Bright Lights stars?
The doc was originally slated to air in March, but following the deaths, the film will now debut Saturday, Jan. 7, at 8 p.m. ET. An HBO press release summarizes the narrative as such:
"The story of a family's complicated love, this documentary is an intimate portrait of Hollywood royalty in all its eccentricity. Carrie Fisher and her mother, Debbie Reynolds, live in the same Beverly Hills compound. The 83-year-old grand dame still has a Las Vegas act, but performing is taking its toll. Carrie's response is both hilarious and heart-rending."
You can watch a preview of the film below.
HBO Documentary Films president, Sheila Nevins, defines the portrait film as "a love story," and anyone with functioning eyes can tell that statement is true after taking in the teaser. The love shared between the two is unconditional, and manifests itself through Carrie's actions as she brings her mother soup, and lives in her dialogue. Almost every other word that slips from Carrie's lips is "my mother," or pertains to her queen in one way or another.
The duo's love is also palpable from the intention of the film itself. "Carrie wanted to make Bright Lights for Debbie and Debbie wanted to make it for Carrie," Nevins revealed. "If this was a Hollywood script, no one would believe it. They just loved each other so much. The bond was just unbreakable." The documentary, that is very much so a gift for one another, is the first time fans can watch filmic forces, Fisher and Reynolds, united on-screen. The personalities and voices they bring are raw and real, which is probably why Bright Lights has already received audience and critical acclaim at many prestigious film festivals, including the 2016 Cannes Film Festival, the Telluride Film Festival, and the New York Film Festival.
Bright Lights allowed us one last filmic look at the stars before the two flickered out. "Mother and I live next door to each other, separated by one daunting hill. I usually come to her. I always come to her," Carrie confesses in the film's trailer. These roles were sadly reversed just a few days ago, when Reynolds passed away, only a day after her daughter. In the darkness surrounding their deaths, the world is once again lit up by the two "bright lights" in this 95-minute love story, captured just in the knick of time.