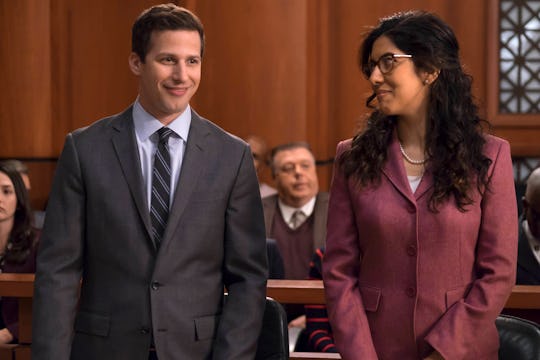 John P Fleenor/FOX
'Brooklyn Nine-Nine' Season 5 Will Be Here Before You Know It
While it's sad to see summer come to an end, it's great to welcome in the fall season. Besides the pumpkin spice lattes and Halloween festivities, there's even more to celebrate with the change of seasons. It's the return of some of our favorite shows. As always, the month of September brings a lot of season premieres and, in the case of many shows, some much needed answers. One of those shows that left fans wondering what could possibly happen next is Brooklyn Nine-Nine. So when does Brooklyn Nine-Nine Season 5 premiere? The Nine-Nine is back in just a few weeks.
At the end of Season 4, fans were shocked when Detectives Jake Peralta and Rosa Diaz were actually sent to prison, after being set up by their idol, Lieutenant Hawkins. Earlier on, the pair discovered Hawkins was a dirty cop, and went to work trying to catch her doing a bank robbery. However, she out smarted them and had them arrested instead.
Then, in the finale, just when it looked like they found the perfect person to help them win their case, their number one witness turned out to be working with Hawkins. Rather than testify that Hawkins had framed him too, the former cop supported Hawkins claims that Jake and Rosa were longtime criminals. Thus, they were sentenced to prison, and now in the Season 5 premiere — which airs on Tuesday, Sept. 26 — both Jake and Rosa are still in jail, while the other detectives at the Nine-Nine try to figure out a way to get them out.
Boyle, in particular, will be working extra hard to find proof Hawkins is a dirty cop and prove Jake and Rosa's innocence. He'll also be greatly affected by Jake's absence, which will be seen at the very start of the premiere. "They've got a wonderful cold open to show [Boyle's] depression, which rivals and — dare I say — surpasses him breaking up with Vivian in the Matrix leather coat cold open," Joe Lo Truglio, who plays the beloved character, told Entertainment Weekly.
While the crew in Brooklyn use all means necessary to get Jake and Rosa out of jail, the two detectives are handling their new lives in prison a bit differently. For Jake, he's settling in with his new cellmate, Caleb (Tim Meadows), who just so happens to be a cannibal. Luckily for Jake, Caleb would rather be friends with Jake than eat him as a meal. However, Jake doesn't even know his cellmate is a cannibal at first, which should make for a pretty funny reveal this season.
Jake also connects with a criminal mastermind named Romero (Lou Diamond Phillips) to help keep himself safe while in the pokey. "Jake actually goes looking for protection and Romero is a protector," Andy Samberg, who plays Jake, revealed to EW. "Jake has to figure out how to get in his good graces." However, Jake will find himself between "a rock and hard place," executive producer Dan Goor told the outlet. "The rock is Romero and the hard place is the warden." Meanwhile, in the women's prison, Rosa is enjoying solitary, while Captain Hold and Terry are trying to make her life in prison as good as they can. Fans will have to wait and see if they're at all successful.
Overall, the start of the season will definitely be centered around rescuing Jake and Rosa, and the squad may even be tempted to do something unethical in order to free their friends. The only person that hasn't been discussed thus far is Gina, who was pregnant the last time fans saw her (as was Chelsea Peretti, who plays the character). It's unclear if she'll already have the baby once the show begins or not, but thankfully fans don't have much longer to wait to find out.
Watch Romper's new video series, Romper's Doula Diaries:
Check out the entire Romper's Doula Diaries series and other videos on Facebook and the Bustle app across Apple TV, Roku, and Amazon Fire TV.