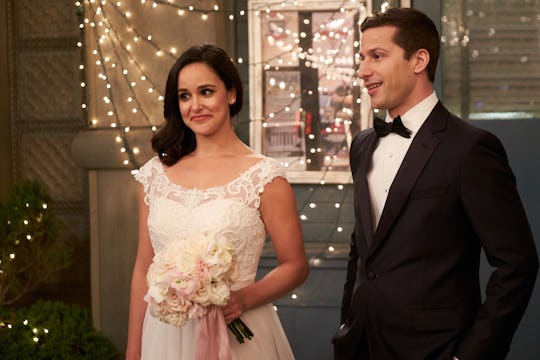 John P Fleenor / FOX
'Brooklyn Nine-Nine' Season 6 Is Happening — But There's A Twist
Last week Brooklyn Nine-Nine fans went through a roller coaster of emotions. First, FOX cancelled the popular comedy -- but then NBC swooped in and picked it up for a sixth season. So now the only question is: when does Brooklyn Nine-Nine Season 6 premiere?
Since the show is switching networks for its next season it's hard to guess when exactly Brooklyn Nine-Nine will premiere. Although NBC did pick it up for another season, it was a small order, only 13 episodes, compared to its previous seasons which have all been more than 20 episodes. Thus, it's possible Brooklyn Nine-Nine won't return until mid-season, which wouldn't be until sometime in 2019. However, if NBC chooses to keep Brooklyn Nine-Nine on its regular airing schedule, then fans should expect Season 6 to premiere sometime this fall. The likeliest date will be in September just like previous seasons.
Unfortunately, fans probably won't get confirmation of this for a while since NBC hasn't announced its full fall TV line-up yet. The best way to know when Brooklyn Nine-Nine will return is to just keep a close eye on the show's social media pages. For now, fans can just focus on the season finale, which will surely be a fun episode!
After Jake Peralta proposed to his longtime girlfriend, Amy Santiago, during this season's Halloween episode, Season 5 has been building up to the couple's nuptials. Now the big event is finally here, and fans couldn't be more excited to see their favorite couple be wed. However, since this is Brooklyn Nine-Nine, you can probably expect this wedding won't go off without a hitch or two.
One major block in their wedding plans already happened when Jake and Amy's arch-nemesis, The Vulture, swooped in and took their perfect wedding venue. Following that, Jake accidentally hired Amy's ex to perform at their wedding. Thankfully, Amy was able to burn their contract during her bachelorette party so that was taken care of. Finally, in the penultimate episode of the season, Jake discovered that his "groom gut" was a "classy bitch" and he went way over budget. Thanks to Terry, Jake quickly realized his mistake and was able to correct the problem before it was too late. Plus, with the help of Terry, Hitchcock, and Scully, they were even able to put together and deliver the finished goody bags to the wedding venue, despite some slightly melted cookies.
At this point it'll be quite interesting to see what actually does go right on Amy and Jake's wedding day. Still, even if there are a few mishaps, as long as they actually end up married that's really all that matter!
Along with the excitement surrounding Jake and Amy's wedding, fans are also excited to see Jane the Virgin star, Gina Rodriguez, guest star on the finale. Way back when it was revealed that Rosa Diaz was bisexual, Stephanie Beatriz, who plays the character and is also bisexual, told Entertainment Weekly that she would love it if Rodriguez was her love interest. Rodriguez shared the sentiment, tweeting, "Um...can I get an audition @Brooklyn99FOX?!?" It seems both actresses prayers may have been answered.
Though Rodriguez's role on the show is currently being kept under wraps, press photos show her interacting with Rosa and Terry. So hopefully she really is Rosa's love interest and this won't be the last we see of Rodriguez on the series.
As for whatever else fans can expect during the season finale, you'll just have to tune in to see. No doubt it'll be full of surprises -- and it's also possible the finale will end on a cliffhanger. However, now that Season 6 is confirmed, even if a cliffhanger does happen fans can rest assured that they'll get answers in the next season.