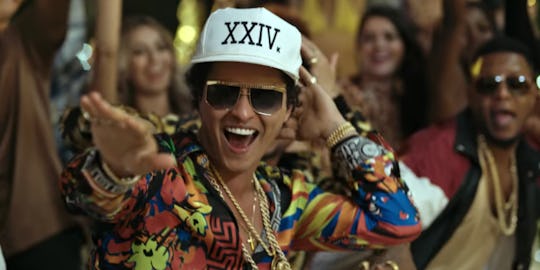 When Does Bruno Mars' '24K Magic' Album Come Out? His Single Has Just Been Released
Bruno Mars has made his own disco-like version of Kanye West's "Welcome To The Good Life" with his new single "24K Magic." Fans have undoubtedly been wondering when Mars would return to the music scene, and it seems like the wait is finally over. After listening to the feel-good song "24K Magic", there's no question that Bruno Mars fans will want more tracks. So when does Bruno Mars' '24K Magic' album come out?
The album will make waves Nov. 18 via Atlantic Records, according to Rolling Stones. You can nab the new song on iTunes now. Bruno Mars marked his enthusiasm for the album in his Instagram caption, which read:
"You can call it my first single, but I call it the invitation to the party."
It feels like audiences have already been to Bruno Mars' party years ago when his last album, Unorthodox Jukebox, dropped. But now, four years later, we are welcomed back to a new track-list with a sound frozen in time. The niche artist surely has a knack for breathing new life into the successful sounds and styles of the '70s and '80s.
Rolling Stone informs that "24k Magic" blends disco, funk, and the sort of vibes that helped usher in hip-hop as we know it today." In this way, one can see why so many people would easily take to Mars' music. And call him back for an encore half-time show performance at the Super Bowl.
The visuals that accompany the latest song reveal a Bruno Mars, all smiles, living out the lavish life he carved out for himself. The video begins with a shot of a private jet opening up to let passengers (us viewers) aboard for a trip to Vegas with the singer. In the video, Mars wears a white hat with the Roman numerals XXVI throughout as a constant promotion of his 24K Magic album.
What's also promoted is Mars' expensive party life. Like the song lyrics suggest, Mars is "a dangerous man with some money in his pocket," and he let's everyone know through shots of him wearing designer clothes at a Vegas casino, in an expensive car, on a jet-ski, and with his face alongside the derrières of multiple women as he sips champagne.
Overall, the music video does a great job at making Bruno Mars look like a V.I.P. Yet, his pearly whites, bright clothing, and friendly demeanor ultimately file him down to a friendly and approachable man. Only Bruno Mars could make himself look exclusive, without closing himself off to fans. In addition, all of the sparkling lights work to make the music video look fun, charming, and almost carnival-like. It also helps that there's not a sad face in sight, even his backup dancers look like they are jamming out on cloud 9.
The "24K Magic" music video pleasantly performs the open invitation to his sonic party — and makes you want to dance through Vegas hotel halls in a Julius Caesar robe, oh, that's just me? OK.
Anyways, while you patiently wait to join the fiesta, you can catch the "Treasure" singer on Saturday Night Live Oct. 15.